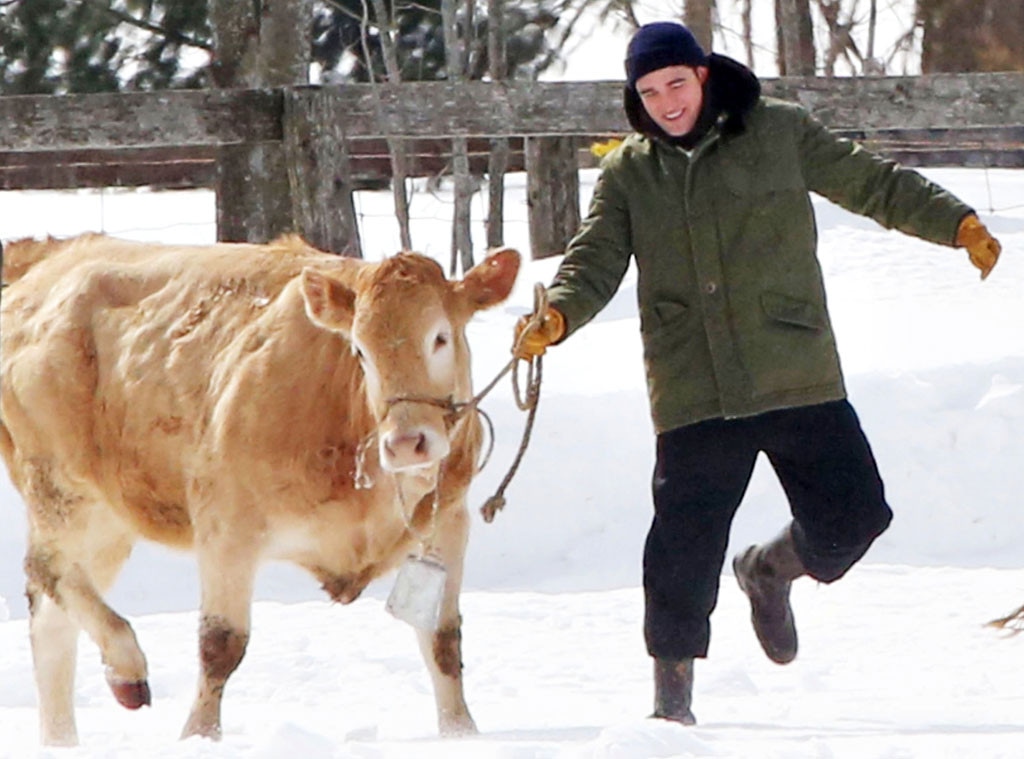 Sean O'Neill, PacificCoastNews
On Wednesday, this photo of Robert Pattinson shooting his latest film Life popped up, and you can probably understand why we instantly became obsessed with it. Not only is there a cute cow in the pic (we're suckers for animals), but just look at Rob! No one has ever looked happier to be running around in the snow with cows.
Yes, we realize he's acting, but that doesn't change the fact that Rob is basically skipping through the snow with a cow, and doing so with a goofy smile on his face. We can't stop starting at it. We love it so much, it's now our computer background. So the next natural step is of course to Photoshop Rob and the cow into other pics and make a meme. You're welcome.
At first we were just going to have Rob skipping around in different scenes, sans cow, but it didn't feel right to leave out his four-legged buddy. So for your perusal, check out our Robert Pattinson Skipping With a Cow memes:
Christopher Polk/Getty Images, PacificCoastNews
This one just made perfect sense. Why can't Miley Cyrus twerk with a horse and a cow? Don't discriminate, Miley!
Justin Bieber and Selena Gomez are just trying to enjoy a segway ride (but does anyone ever really enjoy those?), and you're all up in their love space with your damn cow. It's your fault they broke up, R.Pattz!
Christian Charisius/picture-alliance/dpa/AP Images, Pacific Coast News
Think of how much more impressive it would be if Olympic skaters had to perform a perfect routine around Rob and his cow? Or better yet, with Rob and his cow. The Russian judge would have to give them a perfect score.
"In space, no one can hear you moo." Yes, that's the tagline for Alien, but it still applies.
Pacific Coast News, Summit Entertainment
And now we've come full circle. Twilight: New Cow.
Happy Thursday, everyone! Now go and make your own Robert Pattinson Skipping With a Cow meme!