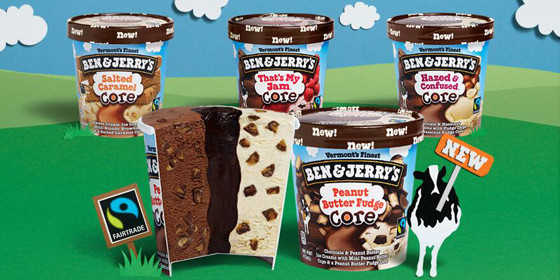 Ben and Jerry's
Remember today's date, because it will go down in history as the day that ice cream—nay, culinary history, changed forever.
Ben & Jerry's revealed their new flavors today, but it wasn't just new ice cream concoctions we were getting. Oh, no. We got a change in the ice cream game when Ben & Jerry introduced us to their "cores."
What are cores? Basically what they sound like: a mass of something delicious that runs down the middle of the ice cream. Ben & Jerry's has three of them: fudge, caramel and "real raspberry jam." And using these new cores, the company has come up with five new ice cream flavors to sell.
So basically, your ice cream will be 33 percent fudge, caramel or jam at the very least. That's not counting all the other delectable treats that are also in the recipe. But enough prelude, let' s meet the new flavors that will soon be packed in a freezer near you:
Hazed & Confused
It's chocolate and hazelnut ice cream with fudge chips and a hazelnut fudge core. Yeah, they can also flavor the cores different to perfectly compliment the outer ice cream. Mind. Blown.
Karamel Sutra
It's fitting how this flavor is called Karamel Sutra, because we'd totally have sex with this ice cream. It's chocolate and caramel ice cream with fudge chips and of course, don't forget about that caramel core!
Salted Caramel
Fun fact: we always prefer Salted Caramel lattes to Pumpkin Spice, so this one with sweet ice cream, blonde brownies and a salted caramel core is one of our favorite new flavors.
Peanut Butter Fudge
Chocolate and peanut butter ice cream go together like seasoned lovers, but when you add mini peanut butter cups and a peanut butter fudge core, it's a whole new world.
That's My Jam
We bet when you saw that raspberry jam core you were wondering how they were going to use it. Well, the answer is that they're going to use it perfectly. That's My Jam has chocolate and raspberry ice cream with fudge chips and a raspberry core. We're confident that pretty soon we'll get some kind of peanut butter and jelly ice cream flavor, because how could they not?
Those cores are damn sexy. Should we be looking at these at work? Seems a little NSFW to stare at that glistening stripe of pure scrumptiousness. But if you're feeling saucy, you can read more about the new flavors on their website.
Ben & Jerry's, we were a little miffed with you when you introduced your 30 Rock Liz Lemon flavor as Greek Frozen Yogurt with a Blueberry Lavender Swirl, because Liz Lemon would never eat that! But now, with these cores, we're all like: