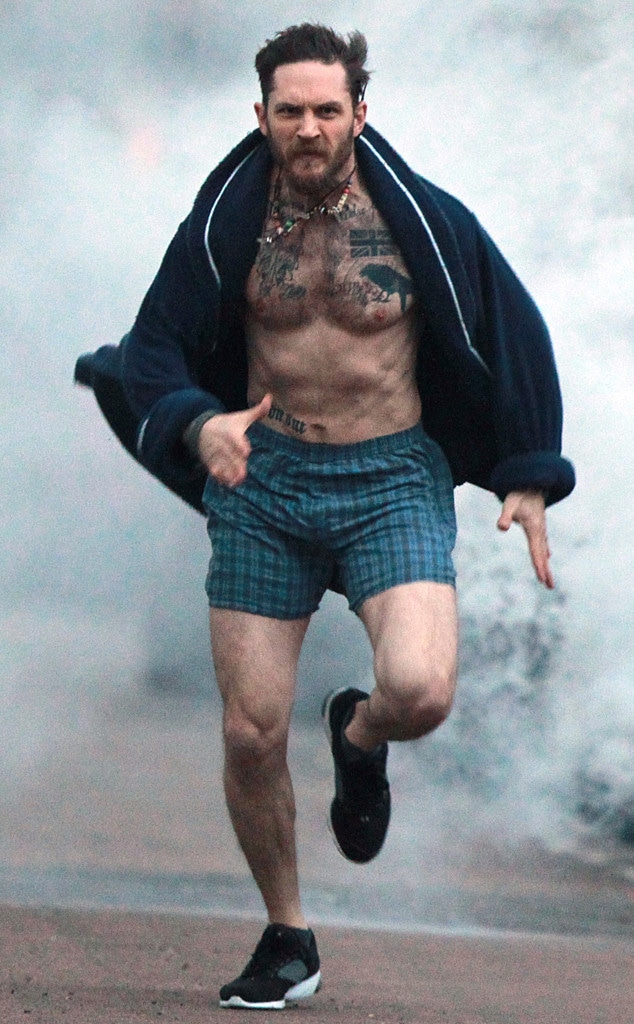 FameFlynetUK/FAMEFLYNET PICTURES
Tom Hardy is stripping down for a good cause (thank you, Tom!).
The 36-year-old actor recently shot a charity spot for Stand Up to Cancer while wearing only sneakers, green plaid boxer shorts and a dark bathrobe.
For the shirtless shoot, which was done on behalf of London's Cancer Research, the bearded Dark Knight Rises hunk ran down a local London street while showing off his many tattoos, big muscles and lots of skin. Hardy looked very intense and focused while sprinting for the camera.
The U.K.'s Daily Mail also has video of Hardy running fiercely down the street in front of two videographers and a camera tripod. Hardy could also be seen standing on set in between takes while hanging out with what appeared to be an assistant.
In other Tom Hardy news, the actor recently got some TMI love from pal Jeremy Piven. When asked who tops his list of potential bromance partners, Piven told Fault magazine this month, "I like Tom Hardy's balls. I mean not literally, I've never seen Tom Hardy's balls, just for the record."
He added, "We worked together in Black Hawk Down and he's a gamer, he's always up for it, he's fearless and he's really fun to watch as well."