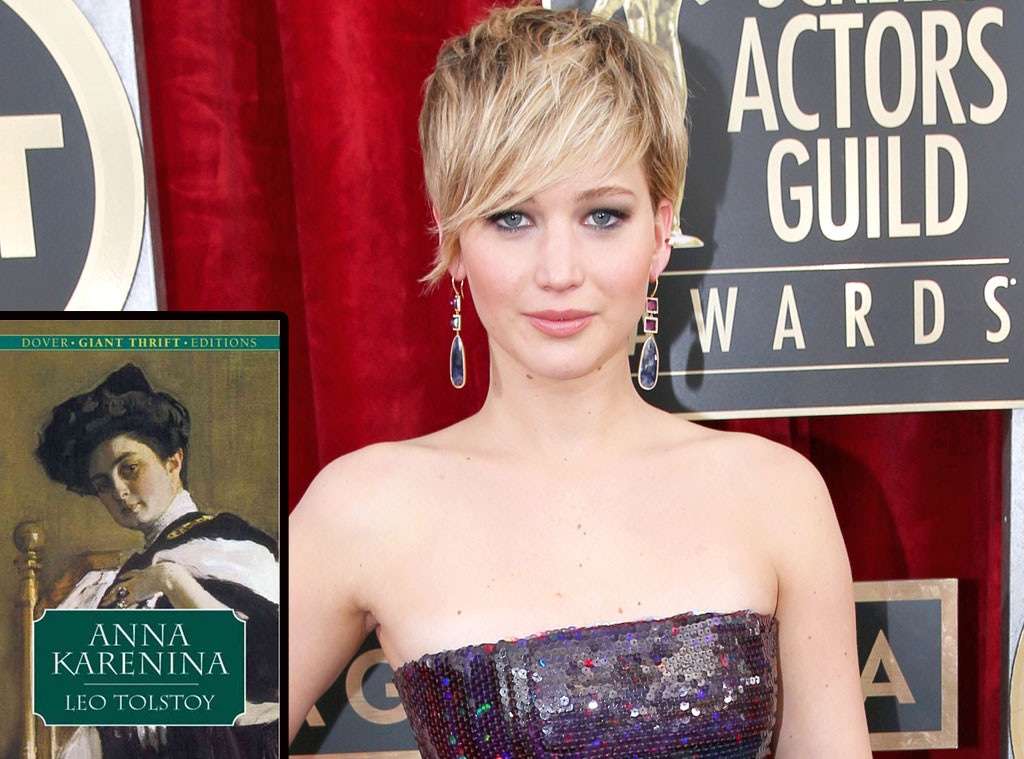 Matt Sayles/Invision/AP, Dover
Jennifer Lawrence is a walking spoiler magnet!
Last month, we all laughed and felt sorry for the 23-year-old Oscar winner when she had Homeland spoiled for her by a TV reporter on the 2014 SAG Awards red carpet. And now, Lawrence's Silver Linings Playbook director David O. Russell is revealing he too spoiled a major literary plot point for the starlet during the filming of their hit 2012 movie.
"She's walking around the set all the time reading the [Leo] Tolstoy novel Anna Karenina," Russell recounted in a recent interview with The Hollywood Reporter. "Which is like a phone book. I was just impressed that this 20-year-old girl is reading Anna Karenina, from Kentucky, who likes to eat junk food, and watch Real Housewives of Long Island. She's a down home girl and she's reading this book. I love it."
Frederick M. Brown/Getty Images
"So, she's reading this novel and has got this much of it left," Russell continued. "Does anybody here know that book at all? Not everybody does because people are mostly reading text these days. So she, I go, oh wow, you're down to almost the end, Jennifer. I watched her reading it to this point. I go, well have you gotten to the part where she throws herself under the train tracks? And she goes, what? Oh, no, I was just joking around. I don't know. She goes, surely, surely Vronsky is coming back. Vronsky, surely he's coming back and she starts crying, she's sobbing. And I go, no yeah, he's going to come back. Just keep reading it."
He added, "And she walks away from me sobbing. I've never had experience like that in my life. This 20-year-old person who is living every ounce of Anna Karenina. And the fact the guy wasn't going to come back for the girl, just destroyed her. She felt it from the bottom of her toes. I don't know how to explain that."
Poor J.Law!