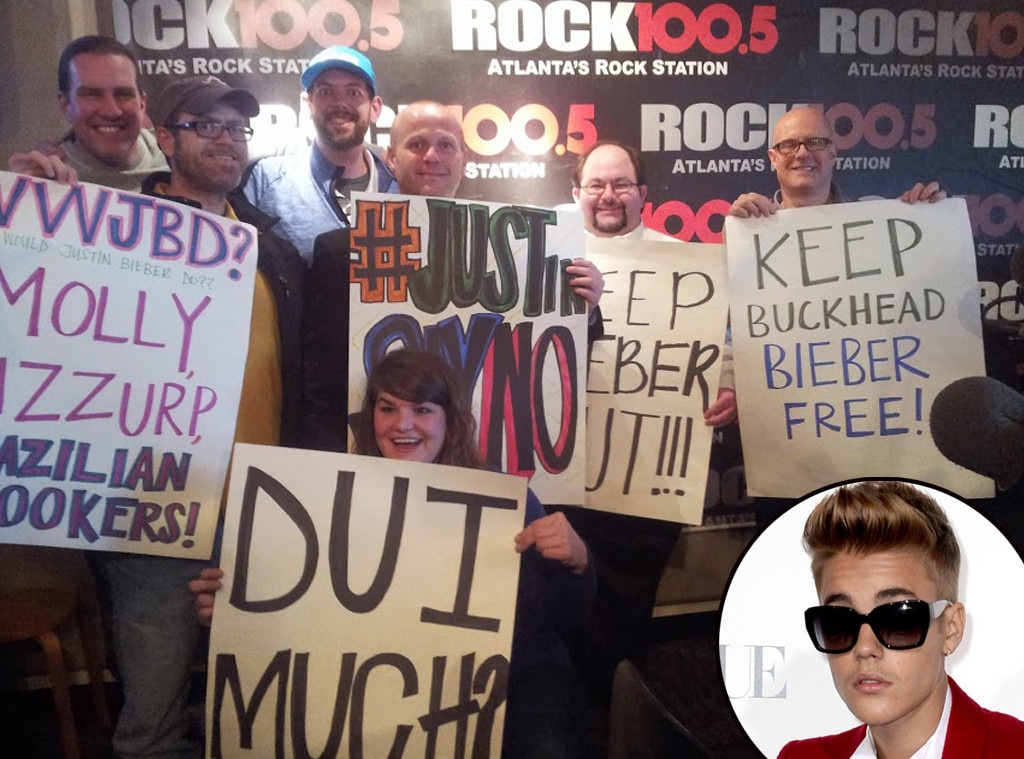 regular guys on rock 100.5 cumulus radio; Frazer Harrison/Getty Images
Why has no one made a good "Leave Justin Bieber ALONE" video yet?
The 19-year-old pop star seems to have have been enjoying his time down in Atlanta, but a protest staged by Rock 100.5's The Regular Guys show made it seem that residents in the city's wealthy Buckhead suburb did not want the Biebs in their 'hood.
Only, as host Steve Rickman told E! News exclusively, the "protesters" were actually just six interns at The Regular Guys show who dressed "rich" à la the stereotypical Buckhead Betty in "just in a nice shirt with a high-waisted belt," and standard Buckhead man in a suit, although "they looked more like bad attorneys." And these interns, pretending to be part of a made-up Buckhead Neighborhood Coalition, carried signs that read, "She doesn't want the 'B'," "No Justins, no peace," "Keep Bieber Out," "No Bieber in Buckhead" and less family-friendly, anti-Bieber turns of phrase.
The Regular Guys on Rock/100.5 Cumulus Radio
"We just sent tweets out, and that's it—just social media," explained Rickman.  "We did not send press releases or anything like that to our local affiliates. We're really not trying to, you know, burn everybody—we're just doing something fun."
That said, The Regular Guys show team was "floored by the response" their protest prank drew internationally from outlets including CNN, BBC News and TMZ. "We just did it as a fun thing," said Rickman. "I mean it spun completely [out of control]…We're blown away. It's a home run when you're a morning radio show."
Fortunately, though, the real residents of Buckhead have yet to take a public stance against the possibility of having the Biebs as their next door neighbor. That doesn't mean, though, that Justin's been unaffected by the recent jokes at his expense (like the "Loser Keeps Bieber" meme that emerged from the USA-Canada Olympic hockey game Friday).
Naturally, the Biebs took to Twitter to express his frustration, writing, "I guess I'm an easy target for some. I'm still human. I will continue to meet hate with love. It's all about the music. Much love."
Aww. Well, at least Justin's musical reputation isn't suffering. His "Baby" music video just reached 1 billion views on Vevo, and on Saturday, he released "Broken," his first song since his DUI arrest last month. In the defiant track, featuring L.A. rapper Blake Kelly, Justin fires back at his haters, including a line in which he sings, "I cannot be broken/ Like I know you were hopin'."
Bless his heart. We Belieb in you, Justin.