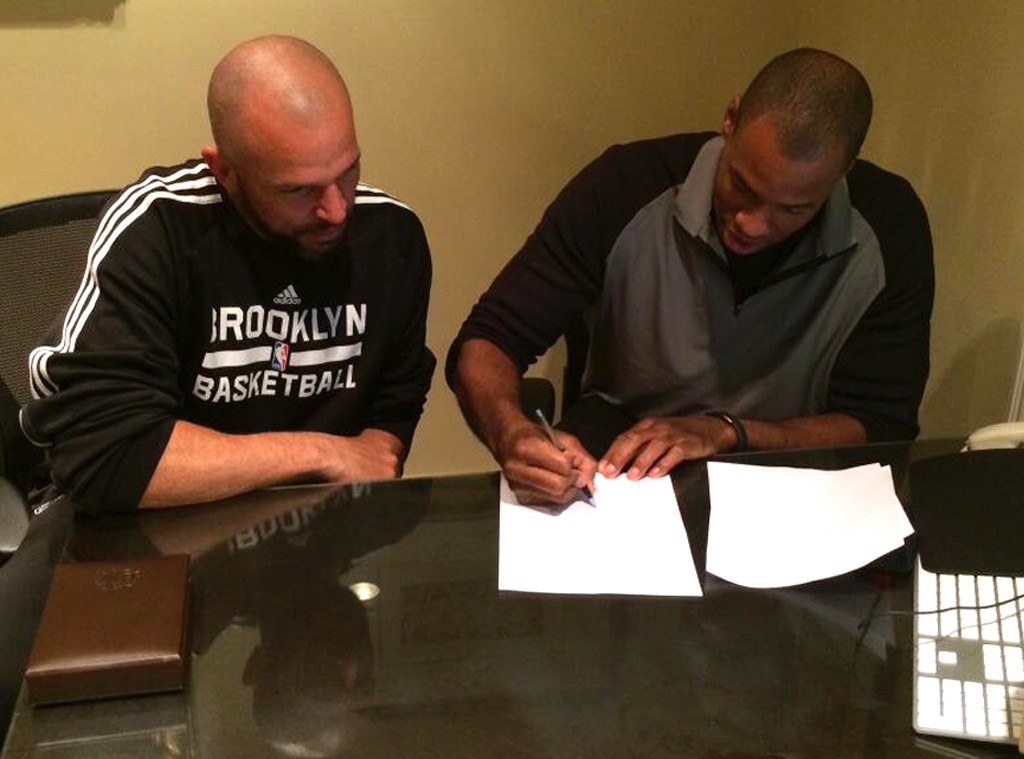 Twitter
It's official: Jason Collins is returning to the basketball court and will become the first active openly gay athlete in the NBA.
The veteran center signed a 10-day contract with the Brooklyn Nets, the team announced on Sunday.
"Official: The #Nets have signed @jasoncollins34 to a 10-day contract," the Nets tweeted. The team also added a snapshot of Collins signing the historic contract.
With this signing, Collins is the first active openly gay player in American professional sports leagues—including the N.F.L, MLB and the N.H.L.
"The decision to sign Jason was a basketball decision," the Nets' General Manager Billy King said in a statement. "We needed to increase our depth inside, and with his experience and size, we felt he was the right choice for a 10-day contract."
Jared Wickerham/Getty Images
The team added that Collins will be available for Sunday night's game against the Los Angeles Lakers at the Staples Center.
"Jason told us that his goal was to earn another contract with an NBA team," NBA commissioner Adam Silver said in a statement. "Today, I want to commend him on achieving his goal. I know everyone in the NBA family is excited for him and proud that our league fosters an inclusive and respectful environment."
Athlete Ally, a non-profit organization that works closely with the NBA on LGBT inclusion, issued a statement shortly after Collins signed his contract.
"We are entering a new era of inclusion with Jason Collins, the Brooklyn Nets and the NBA at the forefront," Athlete Ally's Executive Director Hudson Taylor said. "Jason may be the first, but he's not the last. It's because of him and the unprecedented leadership of professional leagues like the NBA that we'll see more and more LGBT athletes at all levels of competition."
The 35-year-old, who came out last April in Sports Illustrated, has not played since last year after finishing the regular season with the Washington Wizards.
Collins has been a part of six different teams over a 12-year professional career, but spent the majority of his time with the Nets when they played in New Jersey.
Collins openly discussed his sexuality in an essay he penned for SI and revealed why he waited before opening up to the public.
"I'm a 34-year-old NBA center. I'm black and I'm gay," Collins began. "I didn't set out to be the first openly gay athlete playing in a major American team sport. But since I am, I'm happy to start the conversation. I wish I wasn't the kid in the classroom raising his hand and saying, 'I'm different.' If I had my way, someone else would have already done this. Nobody has, which is why I'm raising my hand."