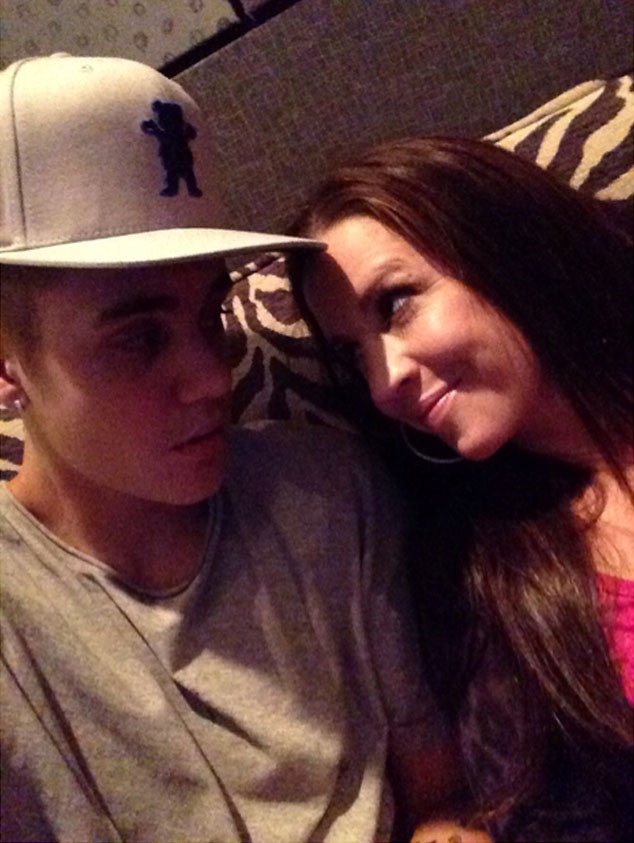 shots.me
Let's see if the apple fell far from the tree!
Justin Bieber had a special guest in the recording studio last night: his mother.
Pattie Mallette tried her hand at singing alongside her son and tweeted, "That was the BEST night of my life @justinbieber you were SO sweet to me & I had so much fun #ILoveYou."
She added, "Amazing night recording my first song. Thank you so much for writing it love!"
The Biebs snapped an Instagram video capturing her singing in the studio for his beliebers to see.
"Got my moms courage enough to get in the booth for the first time she sounds so good," he wrote.
He later posted a snapshot of the two of them hugging and captioned it, "What did I do mom, love you."
Aww…sweet. We wonder what mama Pattie thinks of Bieber's latest tattoo—a cross on his chest—which he just got from his pal Bang Bang during a trip to Panama?
We hope she loves it, but it was a meaningful move for Bieber regardless. A source told us that Bieber's belief "in God and in Jesus Christ" is what motivated him to get that particular tattoo.
But back to the future hit single that the "Beauty and a Beat" singer's mom is about to drop…
The two worked on the upcoming track in Atlanta, where the teenage superstar is currently renting out a massive home.
And while drama has followed the singer over the last couple of months, it looks like things have been fairly quiet in ATL.
Prince Williams/FilmMagic
In fact, according to the Sandy Springs Police Department spokesman Capt. Steve Rose, "we have had no issues. He has been here for two weeks and we haven't had any problems."
Rose added that they have made periodic checks to the home to "make sure traffic patterns remain normal" because the home is on a main street.
 "We probably go by around a dozen times a day," he added. "I'm hoping this will be low key until he finds a permanent home. He is entitled to privacy and we don't want a carnival."