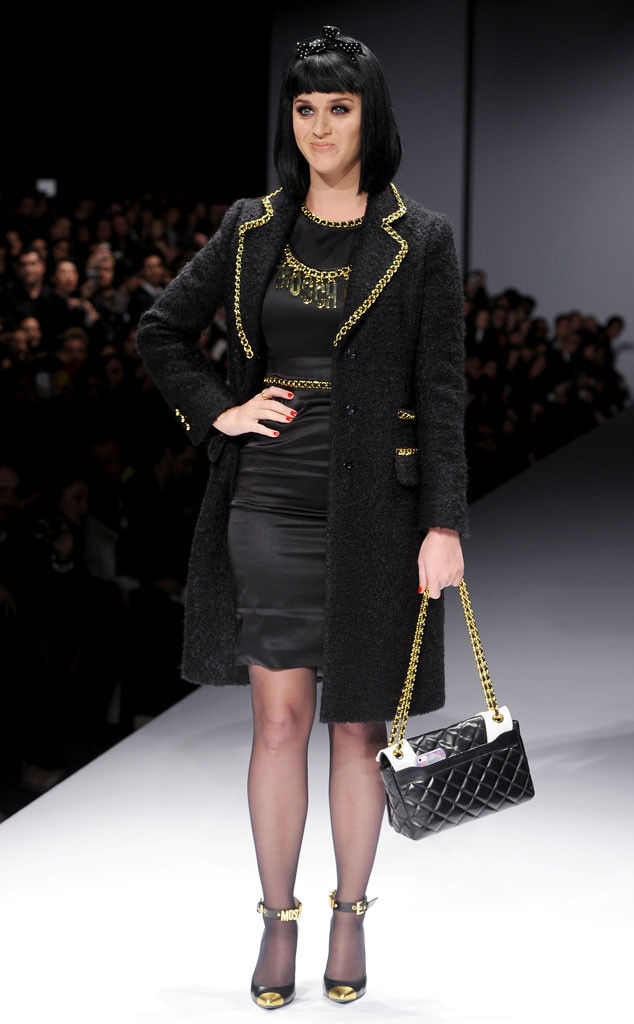 Jacopo Raule/Getty Images
Perhaps Katy Perry should have called up Cara Delevingne for some advice?
The 29-year-old pop star strutted her stuff down the runway during Moschino's Fall 2014 Show in Milan, Italy on Thursday. And while the "Fireworks" singer undoubtedly looked gorgeous in a fitted black and gold frock and matching jacket, it's safe to say her supermodel moment didn't go as smoothly as planned after she was loudly booed.
So what happened?!
Multiple reports claim Perry was heckled by the throng of photographers in the audience, who were apparently upset after John Mayer's girlfriend reportedly delayed the show due to her late arrival (Note: this video contains language which may be offense to some readers).
"You're all going to get your picture, so shut the f--k up," the "Dark Horse" singer shouted as the jeers from the audience grew louder.
However, multiple reports also alleged that Perry was told to arrive at 8:55 even though the show began at 8:00 p.m. Katy's pal Rita Ora, who also walked the Moschino runway, reportedly arrived just 15 minutes prior.
Luckily, Katy seemingly took the taunting in stride and designer Jeremy Scott, who was showcasing his debut collection, tweeted his appreciation for the performer's presence after the show.
"THANK YOU @katyperry & @ritaora FOR BEING THE BEST GAL PALS A BOY COULD DREAM OF," he captioned an Instagram photo with the two talented singers. "I LOVE YOU BOTH SO MUCH !!!"
Despite the unfortunate incident, yesterday was still an exciting day for Perry as she premiered the music video for her hit tune "Dark Horse," the third single off of her album Prism. 
The Egyptian-themed clip begins with the message "Memphis, Egypt...a crazy long time ago" and features Perry as Cleopatra, clad in a platinum blond bob wig with blue hieroglyph detail as she is floating down the Nile on a dazzling boat.