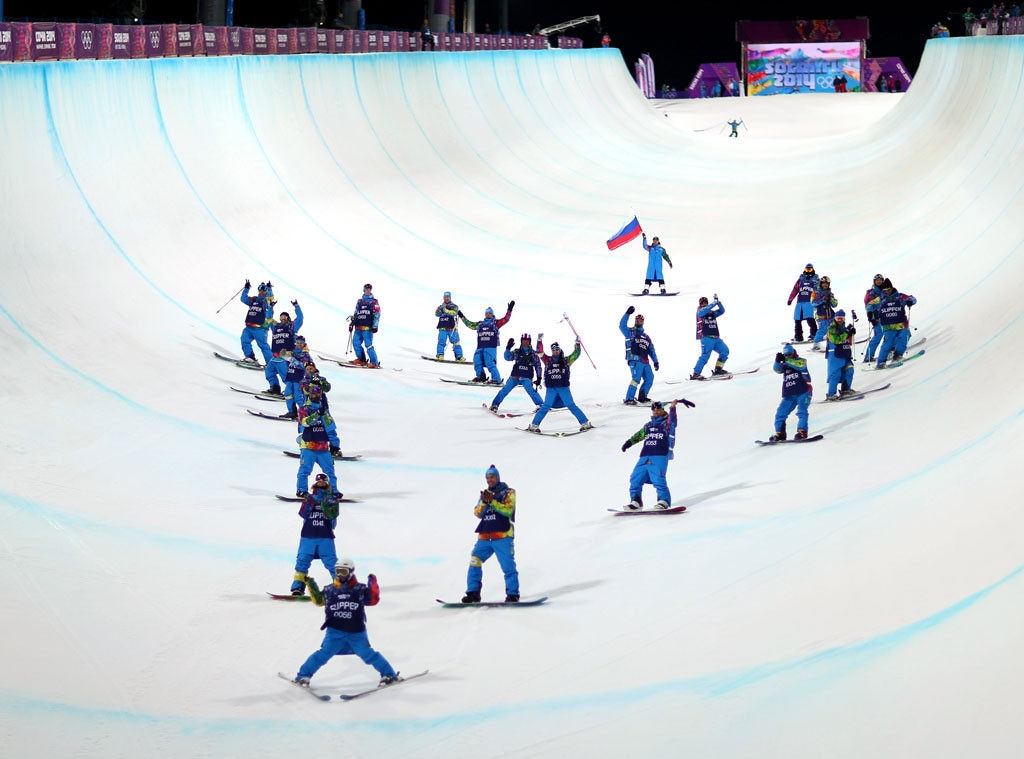 Mike Ehrmann/Getty Images
Some athletes were quite upset when Olympic officials barred from sporting memorial stickers on their helmets in honor of late skier Sarah Burke.
But the halfpipe "slippers" found a way to get their message across in Sochi all the same.
After Thursday's first-ever women's halfpipe skiing final, won by American Maddie Bowman, nearly two dozen workers formed a massive heart and skied down the middle of the halfpipe at Rosa Khutor Extreme Park in honor of the Burke, a champion freestyle skier and halfpipe pioneer who died in a training accident in 2012.
Christophe Pallot/Agence Zoom/Getty Images
Australian Torah Bright, who won the silver in snowboard halfpipe last week, expressed her dismay at the IOC, writing on Instagram that she was at the 2014 Winter Olympics for a number of reasons, including "to honor my great friend Sarah Burke who left this world two years ago. I ride with a Sarah sticker on my snowboard and helmet always. The IOC however, considers Sarah's sticks 'a political statement' and have banned them. Wow."
In town to watch the halfpipe competition, Burke's father, Gord, told reporters after seeing the tribute that he couldn't have imagined witnessing "so much love for one person. So much passion and energy."
Bowman, the gold medalist, called meeting Burke years ago "the coolest moment" of her life. France's Marie Martinod also credited Burke's encouragement with renewing her love of skiing. At the end of her second-place run today, she pointed to the sky and formed a heart with her hands. Bronze medalist Ayana Onozuka of Japan said that she was an Alpine skier before watching Burke inspired her to "take up a new profession."
Canada's Rosalind Groenewoud, who finished seventh, said that she wished Burke "could have won tonight if it wasn't me."