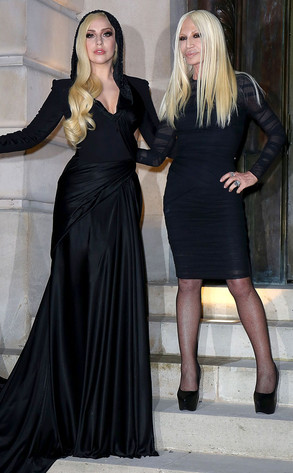 Pierre Suu/Getty Images
Has Donatella Versace fond her soulmate in Mother Monster?
The famed designer shared her admiration for her dear friend and current campaign star, Lady Gaga, in the upcoming Spring Music Issue for V Magazine.
"The first time I met Lady Gaga was when she borrowed pieces from the Versace archive for 'The Edge of Glory' video. Of course I knew all about her, and I was curious to meet her, " says the designer. "The way that we met immediately told me she was someone different; she wanted to get to know the heart of the brand, almost like a student coming to do research. The way she wore Versace in that video showed young people around the world the energy and attitude of Versace."