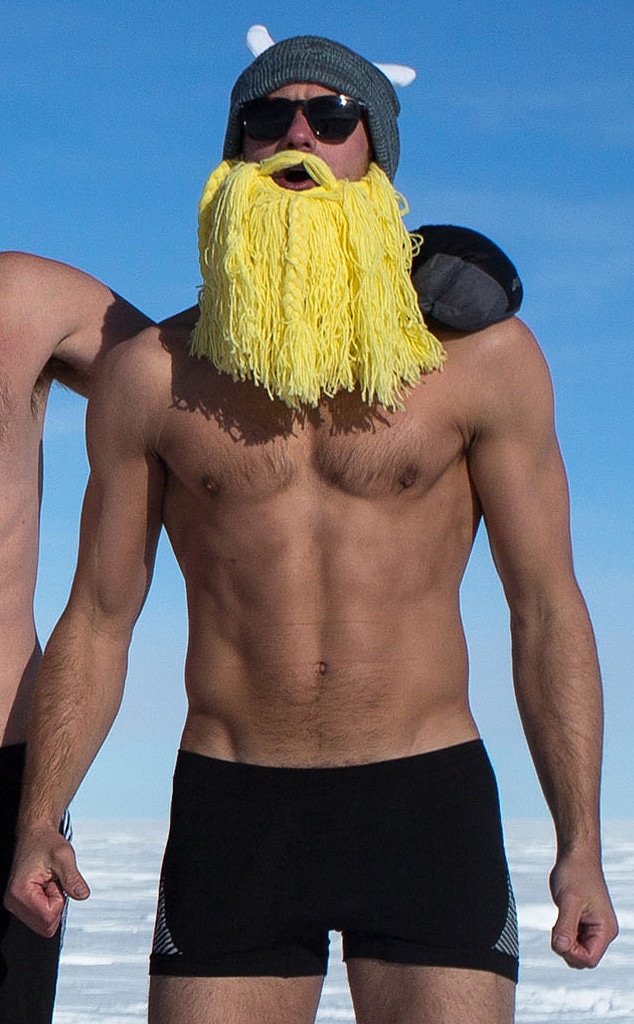 PETTER NYQUIST/SPLASH NEWS
Alexander Skarsgård can't keep his clothes on, even in sub-zero temperatures!
In a new recently released photo from his South Pole charity trek back in December, the super-sexy True Blood hunk strips down again to celebrate his team's journey across Antarctica for Walking With the Wounded.
In the photo, which was taken on Dec. 13, 2013, Skarsgård stands in the snow in only tiny black briefs, boots and a hat (check out those abs and pecs!). On his face he wears a fake yellow beard and sunglasses.
PETTER NYQUIST/SPLASH NEWS
Meanwhile, the 37-year-old actor's Team Noom Coach teammates sport similar stripped-down costumes with underwear, fake beards and hats. The gang all stand together for the chilly photo op.
The whole team carried beards with them during the 200-kilometer trek to provide lighthearted entertainment when morale was low during the arduous journey.
This isn't the first photo of Skarsgård stripped down in the South Pole. Last month, one of his teammates took to Instagram to share a photo of Skarsgård completely naked on a toilet in the middle of the snow!
Hey, no complaints here.