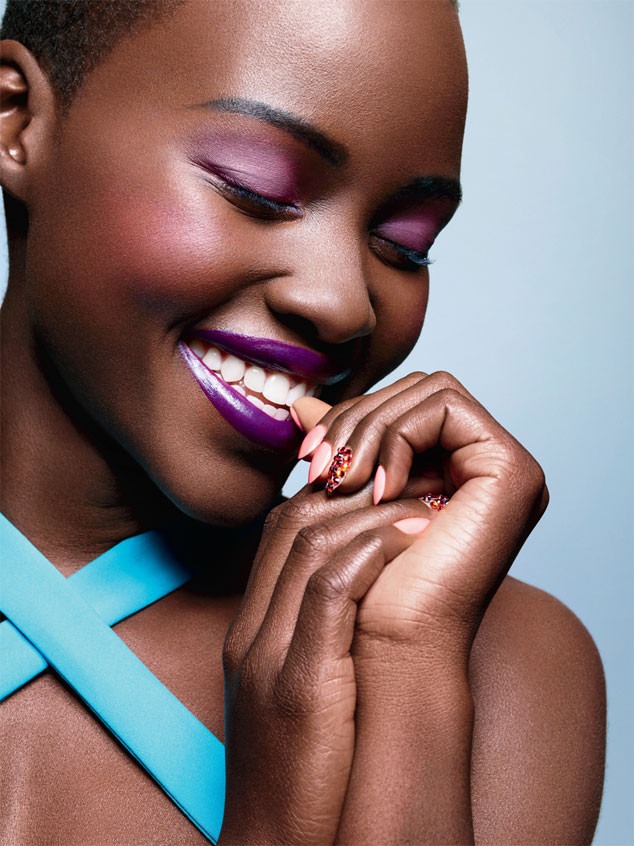 ESSENCE/Philippe Salomon
Lupita Nyong'o is a makeup artist's dream. Few women can pull off bold color combos quite like the 12 Years A Slave star. Exhibit A: Her latest photos shoot for Essence magazine. Exhibit B: Every one of her red carpet apperances.
You'd think someone that can pull off fuchsia pinks and orchid purples wouldn't leave the house without at least one swipe of color, but according to the Oscar nominee that's not the case.
"I don't wear makeup when I'm not working on the red carpet," she explains in a video interview with the publication for the March issue. "Except for a night out here and there… but I try to give my skin a break."
Ah yes, her flawless complexion—another point of admiration. Not surprisingly the star's skin care routine is also very simple. "I wash my face and I use kukui oil," she shares. "A natural oil from Hawaii… its really soft and hydrating."
Moisture is a very important to the star who says the one product she can't live without is lip balm. "When your lips are dry you can't think of anything else," she explains.
Jordan Strauss/Invision/AP
As for her famous close-cut crop, the 30-year-old says she's been rocking it for over a decade.
"I didn't always wear my hair short. In my adolescence I always had long hair and it was relaxed. After the age of 19 I just got really feed up with going to the salon and it taking so much effort to look presentable before you leave the house. So one day I decided to cut it off and my mother was unamused," Lupita says with a laugh. "But she came around."
Lupita Nyong'o will be an honoree during Essence's Black Women in hollywood luncheon on February 27.
"Lupita is definitely Hollywood's 'it' girl this season! She's such a flawless beauty, so who better to share tips on how to achieve the hottest spring makeup trends with our readers? ESSENCE is also extremely excited to honor her during our upcoming Black Women in Hollywood Luncheon."—Vanessa K. Bush, ESSENCE Editor-in-Chief