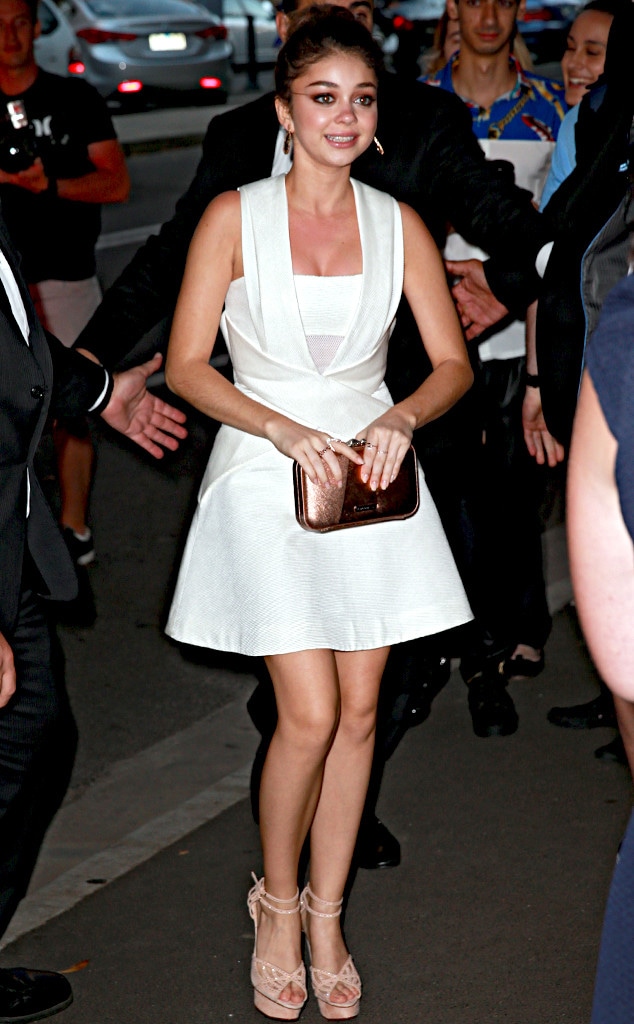 KHAPGG / Splash News
Oh no!
Sarah Hyland left a Modern Family party abruptly after a male fan groped her while posing for a photo with the star.
Hyland became visibly emotional and teared up after the alleged fan grabbed her breast outside of the Sebel Pier One in Sydney.
According to eyewitnesses, Hyland immediately pushed the man in question away and screamed, "Don't touch me there!" before her security guards intervened.
The NSW Police confirmed that a 29-year-old man was arrested in relation to the incident yesterday.
A spokesperson for the police department tells E! News that "it is alleged that the man indecently assaulted the 23-year-old woman at about 7:50 p.m."
The brunette actress took to Twitter to vent her frustrations saying, "Sorry to all the fans outside the #quantas event that I didn't get to say hi to but I had to leave due to an inappropriate touch by a fan."
Her boyfriend, Matt Prokop, added his two cents regarding the scary ordeal, tweeting, "To the a--hole who assaulted Sarah tonight I hope to God you don't see next week. All Sarah wanted to do tonight was say hit to he girls who were waiting outside one douche can ruin it for everyone. Goodnight."
The 23-year-old actress was joined by costars of her hit show at the Quantas hosted event, including Ariel Winter, Sofia Vergara, Julie Bowen, Ty Burrell, and Eric Stonestreet.