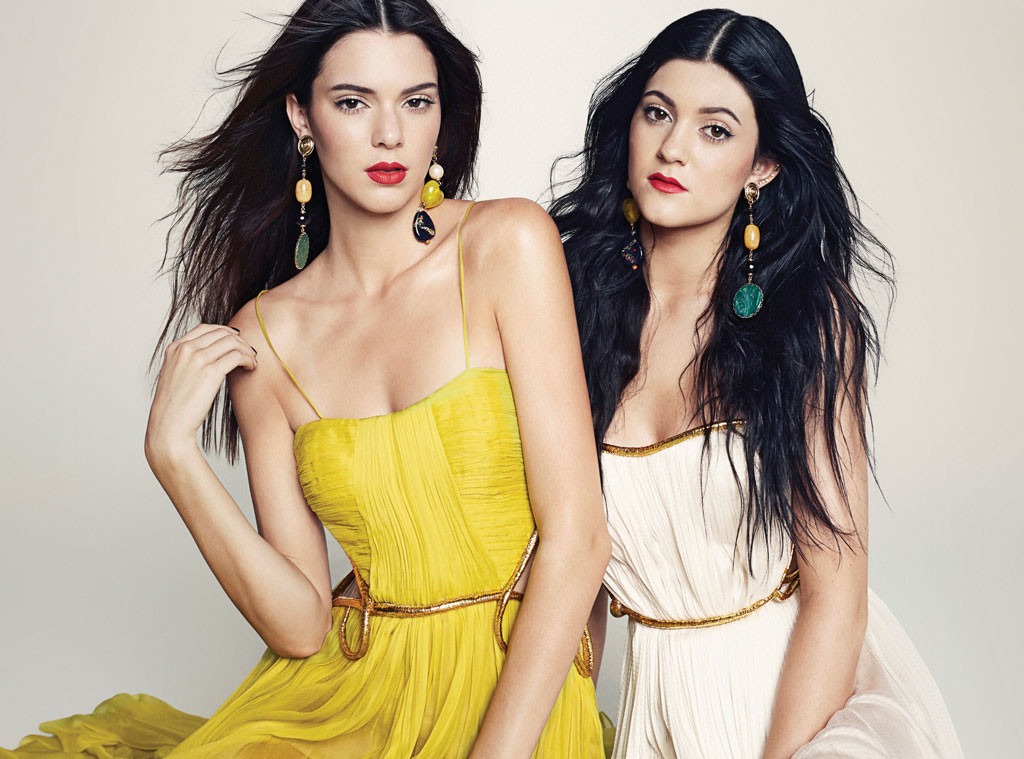 Vladimir Martí/Marie Claire Mexico
Kendall Jenner and Kylie Jenner are taking over the world!
The Keeping Up With the Kardashians star grace the latest cover of Marie Claire Mexico and pose for a series of sexy shots in the magazine's March 2014 issue. Modeling looks by Tory Burch and PAVON, the sisters showcase their versatility as models. "We had a great time," Kendall says of the shoot. "It was especially different for Kylie. It kind of showed her in a different light, so I think that was cool."
Kendall, 18, explains that she's "always enjoyed watching and looking at high fashion models and supermodels. I always wanted to be them. Even as a kid, I remember always looking at my mom's magazines. I would look up to them and I thought they were so beautiful and they seemed very elegant and cool." The brunette beauty adds, "It's just something I really wanted to be."
Vladimir Martí/Marie Claire Mexico
Listing Gisele Bündchen, Miranda Kerr and Rosie Huntington-Whiteley as her inspirations, Kendall is dying to work for Chanel or Burberry. "Everybody tells me I should do Ralph Lauren," she adds.
Kylie, meanwhile, is pursuing other passions. "Right now I love designing and I want to pursue that career once I turn 18, but acting is something I would regret not giving a chance when I'm older, so I would love to try it and see if I like it," the 16-year-old reality star says. "I used to do plays in school and then in my community. I would participate in all of them 'til I was 13."
Vladimir Martí/Marie Claire Mexico
Kylie is currently focused on Keeping Up With the Kardashians, which is currently in its ninth season. "It would be very weird to not be filming because that's all I remember since I was the age of 9. I can't imagine it." When the show inevitably ends one day, "It's going to be a whole new chapter in my life."
The teen star looks up to her family in a number of ways. "They've got great work ethic and they are so kind to everyone around them," Kylie says of parents Kris Jenner and Bruce Jenner, plus her many siblings. "They really take in and appreciate everything they have around them when it comes."
Vladimir Martí/Marie Claire Mexico
In fact, the girls say it's because of their family that they strive to be good role models. "I think we definitely try to set the best example we can," Kylie says of influencing their fans. "Sometimes we have to take a step back and realize that with the opportunities we have, we also have a lot of power to change things. Sometimes we can complain about the paparazzi and about being so public, but I think we have realized that there is just so much that we could do and that we definitely wanna pursue."
Kendall shares her sister's sentiments, but adds that they have a YOLO mentality. "I think our biggest thing is that you're only a kid for so long and you're an adult your entire life, so live that until you can."
Vladimir Martí/Marie Claire Mexico
While they've been famous since childhood, the siblings are grounded in reality. "We keep ourselves surrounded with friends and try to have a normal life, but every time we go out of the house we're followed by paparazzi, so it's not completely normal," Kendall says. "But we try to keep it as normal as possible." How so? "We love to go to Magic Mountain, which is an amusement park with rides and roller coasters, but it gets a little difficult do that kind of stuff now because we're bothered a little bit more than we used to be," the budding fashionista continues. "But it's still fun. We have a good time."
Vladimir Martí/Marie Claire Mexico
Kendall and Kylie may be all grown up, but in many ways, they're still the same girls from Calabasas.
"I literally couldn't go anywhere without Kendall when I was younger," Kylie admits.
"She was obsessed with me," Kendall recalls. "She followed me everywhere."
"I would follow her everywhere she went. We would sleep in the same bed. If she got up in the middle of the night, I got up of the middle of the night. I literally couldn't leave her side," Kylie remembers. "We even matched everything we wore."
Vladimir Martí/Marie Claire Mexico
Kendall—who remembers cutting "all" of Kylie's hair off as a kid—tells Marie Claire Mexico that they're not nearly as mischievous as teens. "We were evil. We would lock people outside when it was raining."
Sounds like the girls are maturing in more ways than one!
Tune in to Keeping Up With the Kardashians Sunday nights at 9/8c, only on E!