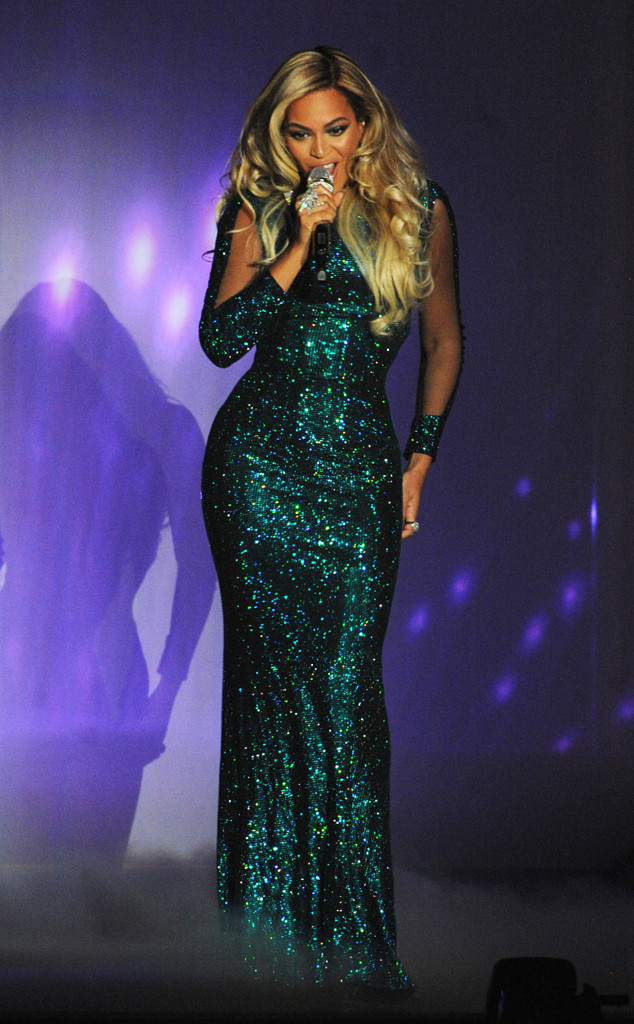 Dave J Hogan/Getty Images
Beyoncé shines on stage—literally.
The pop superstar dazzled in a long, form-fitting Vrettos Vrettakos gown that contained—wait for it—140,000 blue zircon crystals (!) during her debut performance of her single "XO," off her latest self-titled album, at the 2014 Brit Awards in London. Bey, and her longer locks, took the stage for the first time in a decade at the event and absolutely stunned as she belted the sweet ballad, giving the audience a memorable show.
There was no extra glitz or glamour (not really necessary with a dress like that) or backup dancers and crazy antics. The singer's main focus were her powerhouse vocals—OK, and a bit of smoke and flashing lights in the background.
"I'd like to dedicate this song to my incredible fans. I love y'all," she first said as the lights went up.
Queen B noticeably opted to leave out the controversial audio clip from the NASA Challenger explosion which normally opens the song. Bey recently found herself in some hot water after some thought the celeb was being "insensitive" for using the disaster audio which claimed seven American lives in 1986.
But the song, written by Ryan Tedder and The Dream, wasn't meant to be disrespectful, Beyoncé explained. "My heart goes out to the families of those lost in the Challenger disaster," she told ABC News. "The song 'XO' was recorded with the sincerest intention to help heal those who have lost loved ones and to remind us that unexpected things happen, so love and appreciate every minute that you have with those who mean the most to you."
"The songwriters included the audio in tribute to the unselfish work of the Challenger crew with hope that they will never be forgotten," she added.
Watch her performance above (it starts at 1:45) and tell us your thoughts in the comments!