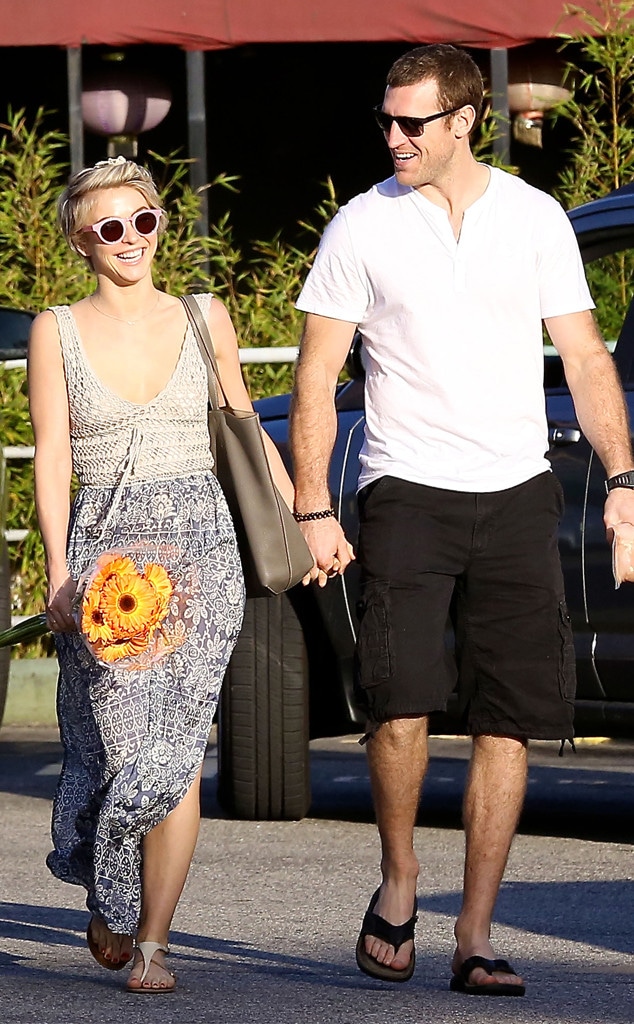 FameFlynet
Looks like Brooks Laich is quite smitten with his new ladylove Julianne Hough.
Just one day after the couple was spotted packing on the PDA, the Canadian hockey player opened up about his romance with the Safe Haven star during his weekly interview on 106.7 The Fan on Wednesday.
The Washington Capitals NHL player revealed he was first introduced to Hough in December through mutual pal Teddy Sears, who worked with the Dancing With the Stars beauty on the upcoming movie Curve.
"On set, apparently, he was talking with Julianne, and said he had recently just got married—just got back from his honeymoon—and then asked her if she'd been seeing anyone, and she said no or whatever, and I guess he was watching our hockey game at the time," Laich explained. "He always watches the game on Game Center on his iPad. I guess he just showed her the iPad and said, 'Well I've got a guy for you,' or something."
"I guess that was sort of how it started," he continued, adding that the pair didn't immediately come face to face. "He kept mentioning her name and mentioning her name, eventually we connected. Happy we did."
So how did the twosome finally meet?
"In December, Teddy and Melissa [Teddy Sears' wife] came back for a little wedding reception of theirs, back in D.C. here, and Jules came out with them and I got to meet her at that point," the athlete shared.
Asked whether he was familiar with her work, Laich admitted, "To be honest, I had never seen an episode of Dancing With the Stars, but in my defense, she had never seen a Caps game either until she met Teddy."
And while he was a bit more hesitant to open up about his gorgeous gal, he couldn't help but say a few kind words when pressed about his new love.
"I don't want to get into a whole lot of it; I'm kind of shy on my personal life," he said before gushing, "But she's a cool, cool gal. She's just a sweetheart, very loving, very giving. She puts so much great out into the world. I'm a pretty lucky guy."
Despite having met only two months ago, a source recently told E! News the duo is as smitten as ever. "He's a very nice guy," an insider close to Hough told us. "She really likes him."
And it seems that they're already planning for their future together:
"She's actually at the point right now where she can be pretty flexible with her schedule and ours is going to be intense for the next little bit, but then we'll figure it out," Laich said when asked how the lovebirds plan to balance their busy schedules in the coming months. "Then the summer comes and I'll have time to be flexible then, but we'll make it work, we'll figure it out."
Be sure to watch E! News tonight at 7 and 11:30 p.m. when Julianne Hough guest stars on the show!