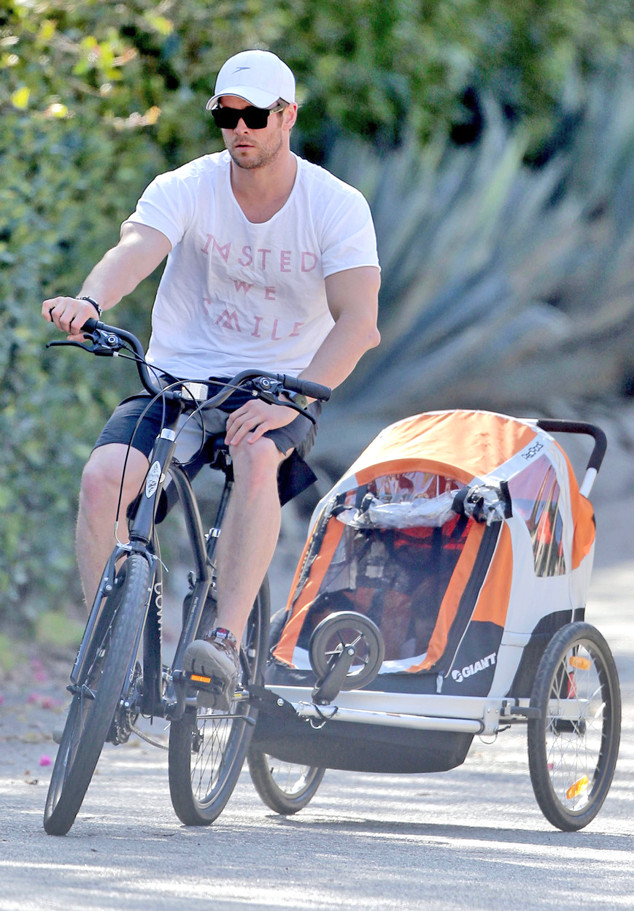 KVS/PacificCoastNews
Nice ride! India Hemsworth followed her famous father in Malibu Monday. Chris Hemsworth, who flexed his bulging biceps in a $39.95 Insted We Smile tee, chauffeured the 21-month-old cutie around town on his bike. Ever the doting dad, the Rush star ensured his daughter's safety by placing her in a $360 Giant "Peapod" trailer.
Hemsworth looked particularly buff after going on a diet of 500–600 calories a day in order to lose weight for his role in the movie In the Heart of the Sea. "I had a cheat meal a couple of minutes ago so I'm in a good mood. [I had] a bit of pizza. Like 10 [slices]," Hemsworth said during a November 2013 appearance on Jimmy Kimmel Live. "But that's just once a week and then you feel really guilty."
The Australian actor added that his "meals" are barely enough to keep him energized. "I mean, you can consume 600 calories in a milkshake," he said. "So it ends up being a couple of small salads, a couple of small pieces of protein and that's kind of it and you go to bed hungry. And then you have like a fasting period of 15 hours, like you stop eating completely, and then you have little meals through the day."