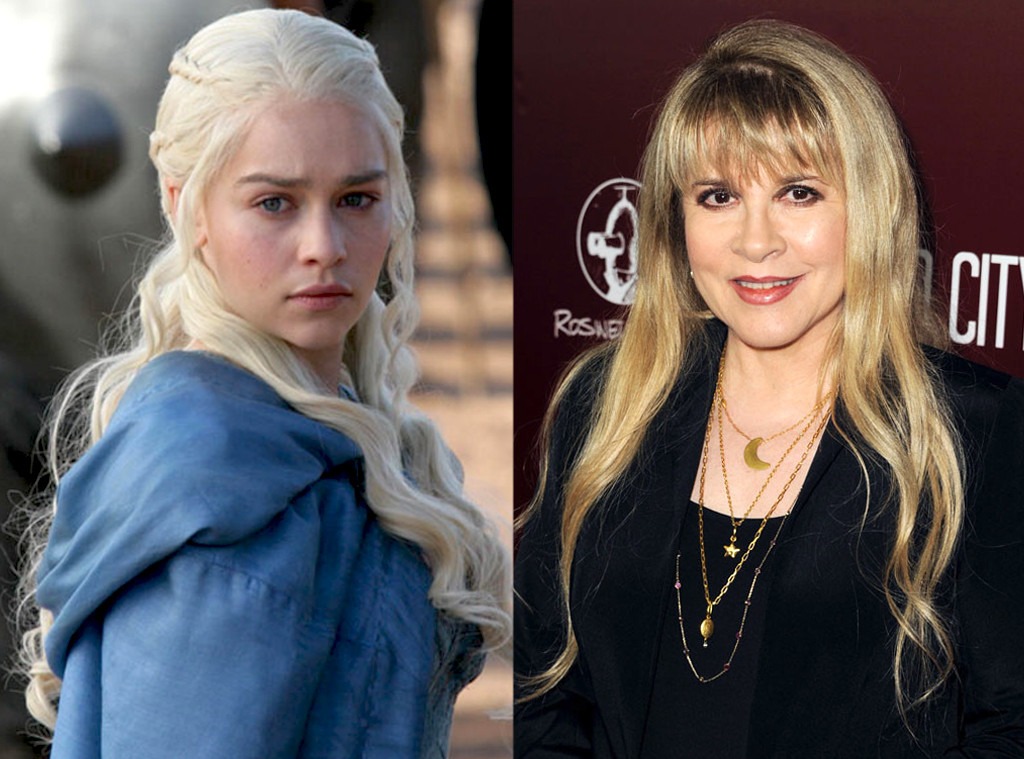 Keith Bernstein/HBO/Kevin Winter/Getty Images
First she took American Horror Story: Coven by storm, now Stevie Nicks wants to work her magic on Game of Thrones.
In an interview with Radio Times, the Fleetwood Mac singer said Game of Thrones was a great comfort to her when she was dealing with the passing of her mother in 2011. Nicks said she she fell into the world of Game of Thrones and watched the entire first season while recovering from pneumonia and grieving the loss of her mother.
"I would love to write some music for the show," Nicks told Radio Times. "I've written a bunch of poetry about it—one for each of the characters…I'm always looking for that kind of inspiration, and I'm very inspired by it—as I was very inspired by Twilight."
Nicks counts Khaleesi (Emilia Clarke), Cersei (Lena Headey) and Margaery (Natalie Dormer) as her favorites.
"And then you have Brienne of Tarth [Gwendoline Christie]—I love her."
Nicks has been involved in the music for TV shows before. She watched as Glee paid tribute to Fleetwood Mac and it was there that she became friendly with co-creators Ryan Murphy and Brad Falchuk. Nicks then gave the producers her blessing to use her music for American Horror Story: Coven and created a character who was obsessed with the singer. Nicks appeared in two episodes of the hit FX series as herself. She performed in both episodes, including a music video of sorts she pitched in the finale.
Nicks told E! News how the scenes came about.
"This is what I said, 'I just want to put on a fantastic long black dress and have beautiful hair and wind and really high heels. I just want to walk through the beautiful white house and say "Hello, witches!"' So, I get to New Orleans and in New Orleans, I get this script and it is not just me walking through," she said. "My assistant reads it out loud to me at 3 in the morning and I'm pretty horrified because I'm going, 'Do they know that I'm not an actress? Has anybody told them that I've never, ever done anything like this in my whole life?'"
The singer said everybody was very supportive when she filmed her scenes. "I really just said, 'OK, you know what? I'm here now and I'm going to pull it off,'" Nicks said. "I said a little prayer and I just walked straight into it with my head up and said, 'I'm going to do this.'"
And she did.