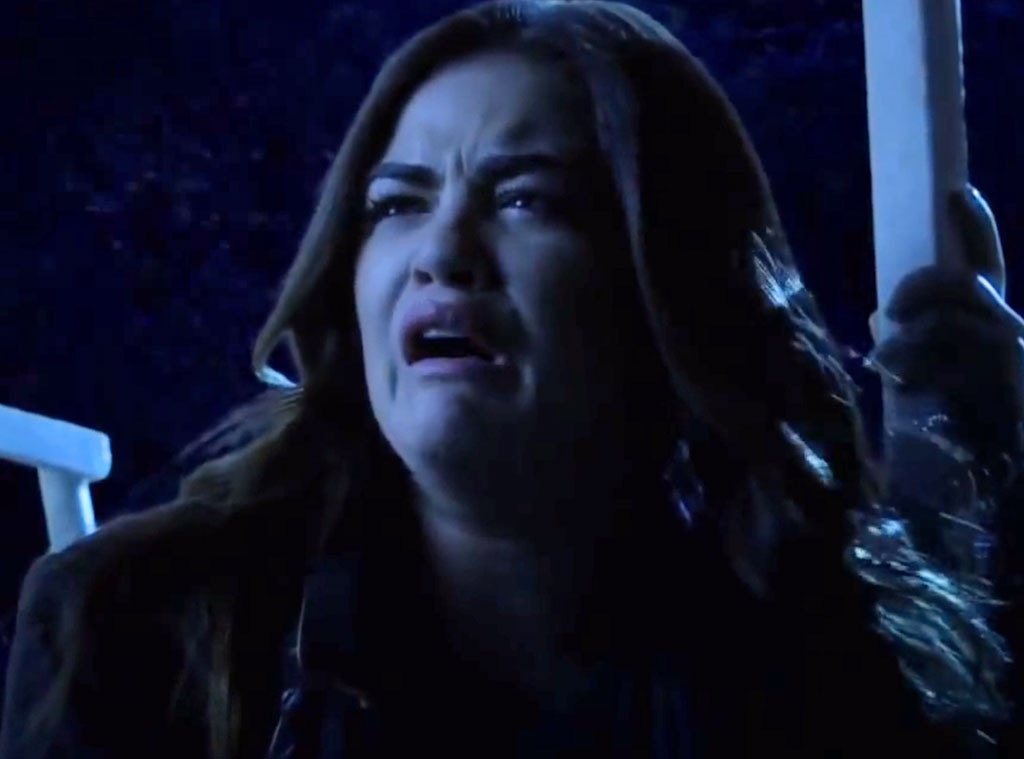 ABC Family
WARNING! We're about to discuss the jaw-dropping secrets that were revealed in tonight's all-new episode of Pretty Little Liars. If you do not want to know what happened, or discover the dark details that are coming up, turn around, and run away. For everyone else, let's discuss…
Can you believe what just happened?!
Thanks to Pretty Little Liars' latest earth-shattering shocker, our hearts are pounding, our heads are spinning and we're currently in the fetal position hyperventilating through our tears. Take a deep breath, little liars, because we're here to help you through tonight's mind-boggling reveal: Aria (Lucy Hale) discovered that Ezra (Ian Harding) is not "A"!
We repeat: Ezra is not "A"— nor has he ever been a member of the A-Team. Instead, Aria discovered (while stuck on a chairlift!) that her dearly-beloved beau has been spying on our foursome since the very beginning of the series. Why, you ask? Ezra was gathering information for a tell-all book about Alison DiLaurentis' disappearance. Umm, stalker? Party of one?!
To help you process this totally unexpected, and heartbreaking reveal, we chatted with executive producer, Marlene King, to further clarify the information that just exploded in our television screens.
"Ezra is not A, but he is a pretty little liar." King exclusively revealed to E! News. "So now it's going to be about what his true intentions were. Was he doing this for greed? Did this turn into something else? Was he helping the girls ultimately? You know, time will tell but I think that betrayal is betrayal."
King also pointed out a key clue that proved that Ezra was never A: "He's never worn the hoodie." Think about it, little liars. Ezra's devious outfit-of-choice was a black baseball cap and black jacket. There were no hoods, people!
Now, we understand that this news is still extremely difficult for many fans to grasp. (We were full-on screaming when we discovered the twist!) So to help you come to terms with the news, and find out what this shock means for Aria in the episodes ahead, we've arranged an exclusive Q&A with executive producer Oliver Goldstick.
Read on for all the eye-popping answers…
We have conflicting emotions at the moment. On the one hand, Ezra fans should be happy because we now officially know that he's not A, but on the other hand, you've just destroyed the entire Ezria relationship! What do you have to say for yourself?
Oliver Goldstick: Oh my gosh, when you put it like that I feel like I'm on the hot seat! What often happens with people who choose a subject is they're not necessarily in love in the beginning, but then they fall in love and they realize, 'I can't do this.' If you look over the course of the past 95 episodes, there are moments when they were not together. There were holding periods and that's when he would work on the book. We feel like in those times where Ezra was deeply involved with her, he was obviously very conflicted and he would stop. He would stop his research and he would stop working on his book, because his feelings for Aria made things way too complicated. So we just haven't been privy to that information because we were trying to keep a secret here. We weren't privy to his inner conflict and I think there was a lot for him.
Were Ezra's feelings for Aria ever real?
Yes. Yes, I think they were real. We always thought that because it's just so much more interesting. If he was just an opportunist or a Machiavellian, it would really not be that interesting for the character, or for us to write. But if he is somebody who has ambition, and then somehow this poor person that he loves now has been crushed under the wheels of it, that's very different.
What does this reveal mean for Aria? How is she going to cope with this blindsiding news?
Ezra beats her heart into butter, the poor thing. The one thing I'll say is, Aria is a woman scorned. She's really angry and she's not going to just take it passively. I'm not saying she becomes a kettle of crazy, but she does lose it. This betrayal is in such a large scale that she acts out—and rightfully so!
Spencer has already been through a betrayal of this magnitude before. Will Aria lean on Spencer and the other girls order to cope with this news?
She will to some degree, but the problem is that Spencer has her own problems and her own troubles going on. If only Spencer was available to lean on. If Aria were to lean on her too hard, Spencer would crash to the ground and they'd both fall six feet under. So no, Spencer is not someone she can lean on at this point.
Has this Ezra/book twist always been in the works, or was this created because of the intensely negative fan reaction last summer when you broke Ezra fans' hearts?
Once we got picked up for a second season, we really came back with a lot of outrageous Blue Sky ideas, as we call it, and this has been floating up there since then. We had many different things up there, including the notion of Ezra being A, but it was the question of how to pace it out and how to make it feel organic. So, I would say it was in the ether, and it was already out there, but it wasn't always fully defined.  
Why did Ezra choose to have this relationship with Aria? Why not Hanna or Spencer?
I think honestly that was serendipitous because of that bar. I feel like Aria walked in there in the pilot and he was already sitting. We didn't really talk about how he honed into Aria or why he chose her, I think there was a mutual attraction. I think he was already ambitious and wanted to do something about Ali because a year had passed and she was missing. He thought this would be his big book that would break him into the business, into the publishing world. It was too wonderful of an opportunity not to write about it before he met Aria. But even then, as we've sort of hinted, Ezra's past with Alison makes him still have some conscience about this and how he wants this to be exposed.
Was Ezra obsessed with Ali?
I think he was obsessed because the girl is an enchantress. This girl, Alison, has been mythic to us for 95 episodes and what's interesting in this next season is she's going to become very flesh and blood. Before, she had a very big mythology to her because she's always been seen through everyone else's eyes. And I think in Ezra's eyes as well, she's gained mythic proportions because of her disappearance. I think he knew already that she was a crafty girl, who was capable of incredible lies and was incredibly precocious. He wondered if it was possible that she could've pulled this off? Was she really gone? I think he always questioned it.
While Ezra has been watching these girls, has he witnessed A's evil antics and just turned the other cheek?
No, no, no, no. I wouldn't say that. We could look back at other episodes and see that he even got a message. I believe it was in episode five of season one, A was on Aria's phone and he read it and they got in a fight and he said to her, "You told people about our relationship. If A knows, how about B and C?" We never wanted to commit to him knowing that the girls had been being tormented like that, because that would've been cruel.
Ready for even more scoop?! Tomorrow night, E! News will air your exclusive first look at Aria's first "kettle of crazy" act since discovering Ezra's betrayal from next week's episode. Tune into E! News Wednesday night at 7 and 11:30 p.m. on E! to see Aria's extremely emotional and rage-fueled breakdown.