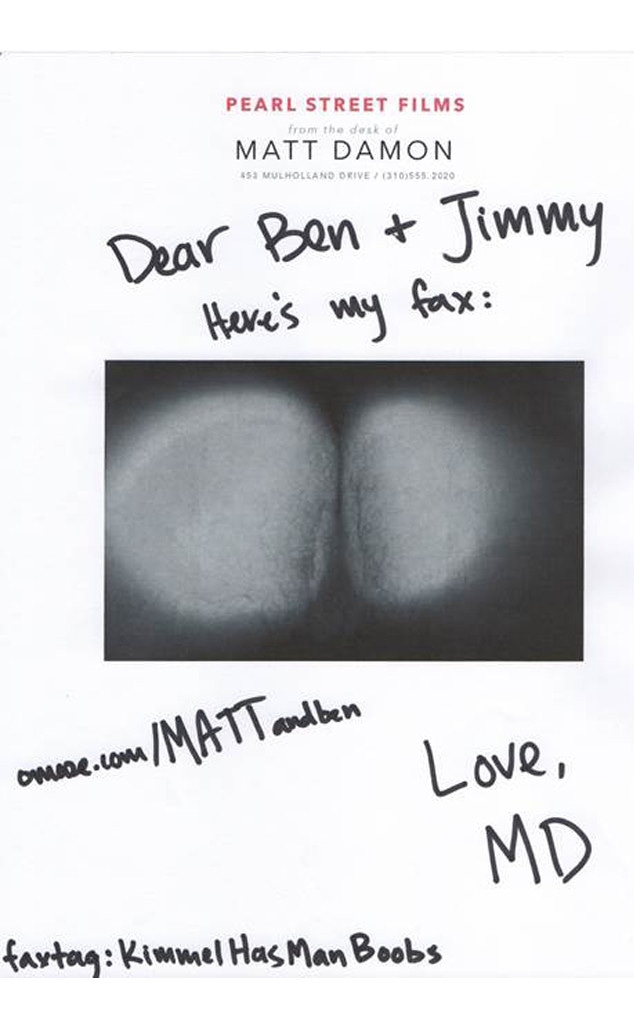 Twitter
Matt Damon may be "too scared" to join Twitter, but he isn't afraid to send a butt fax.
The Oscar winner responded to pals Ben Affleck and Jimmy Kimmel's teasing over his non-existent Twitter account by sending them over a shot of his bare bum.
"Dear Ben & Jimmy, Here's my fax. Love MD," a message accompanying the shot, sent on Damon and Affleck's Pearl Street Films letterhead read.
So, how did this all begin?
The battle of the gaffes kicked off when Affleck thanked Kimmel for retweeting a link that lets fans enter to win a date with him and Damon for charity.
"I thank you buddy. And @easterncongo & @water thank you," Affleck tweeted to Kimmel, before taking a dig at Damon. "Matt on the other hand? Matt you there? Right. We will fax you."
Kimmel continued to poke fun, adding, "Matt is prob too scared to get on twitter because no one likes him." This escalated further when Twitter TV retweeted that and added a #FaxingMattDamon hashtag for kicks. Affleck, of course, couldn't help but to retweet it.
So, Damon did the only thing he could...he sent a fax back...in a major way.
Continuing with the gaffe, Kimmel later posted the butt shot to Twitter, writing, "@BenAffleck - did you see what your "friend" Matt faxed to us? NSFW."
"Looks like u from here, Jimmy. All 4 charity?," Ben replied, later turning a serious note when he added Saturday, "#faxingmattdamon jokes aside, the kids in this story from @medium & @cironline are a reminder of why we're doing this," tweeting a link to the Center for Investigative Reporting's site.
In Late January, Omaze charity announced that for a minimum $10 donation, you can be entered to win a trip to L.A. and a date with Damon and Affleck, with all proceeds going to their charities Eastern Congo Initiative and Water.org.