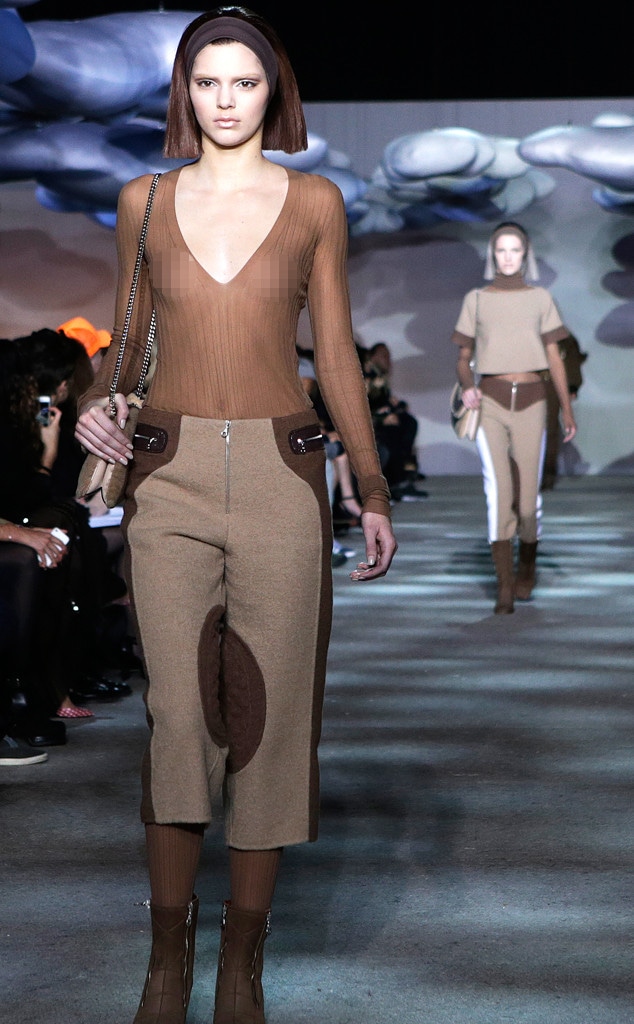 AP Photo/Kathy Willens
Big Brother is watching—especially when breasts are involved!
Kendall Jenner made a much buzzed-about trip down the runway at Marc Jacobs' New York Fashion Week show in a sheer blouse that left absolutely nothing to the imagination, a high-fashion moment that provoked an immediate reaction from the Twitterverse—and major virtual applause from her family.
"My baby sister killed it today!" raved Khloé Kardashian. "Proudest sister ever!!!!" added Kim Kardashian. "@kendalljenner I love watching you live your dream! #MarcJacobs #NYFW."
But every full-body shot posted on Instagram, either by her sisters or others, is nowhere to be found.
We at first thought that it was a corporate-fashion thing, that Marc Jacobs wanted them down until official images had fully circulated (or something like that).
But no—it turns out Instagram took matters into its own hands.
"The photo violated Instagram's guidelines that include a limitation on nudity," the photo-sharing site tells E! News.
(Obviously they're referring to very specific parts of the anatomy—because have you seen what's on Instagram?!)
Of course, there's always supportive sis Kim Kardashian's theory: She tweeted this morning, "Ughhhh can Instagram just delete your photos? Maybe @KendallJenner was too hot for [Instagram]!!!"
Khloé Kardashian, who also proudly posted a pic of Kendall on Instagram that is now just a dead link, spoke up right away in the face of social-media adversity, responding last night to those that had to hate on her 18-year-old sister's success: "She's 2 dope for you to understand! You would trade places with her in a second! The hate is real! Lol bye haters! #ModelLife #Simple."
"Basic bitches NOT wanted," Khloé continued. "Oops I keep forgetting I'm supposed to be on my 'don't sweat the small stuff' ish.... But I just can't pass up a good rant #SorryNotSorry."
To one critic who tweeted that Kendall should have covered herself up, Khloé replied, "It's a fashion show. She doesn't choose!"
Today she returned to Instagram with praise for Kendall's Vogue shoot--and more relatively conservative pics that are still online.
"I have no words for this!!" Khloé raved.
Obviously the exclamation points say it all.
Do not miss Keeping Up With the Kardashians' special engagement event Sunday at 9 p.m., only on E!