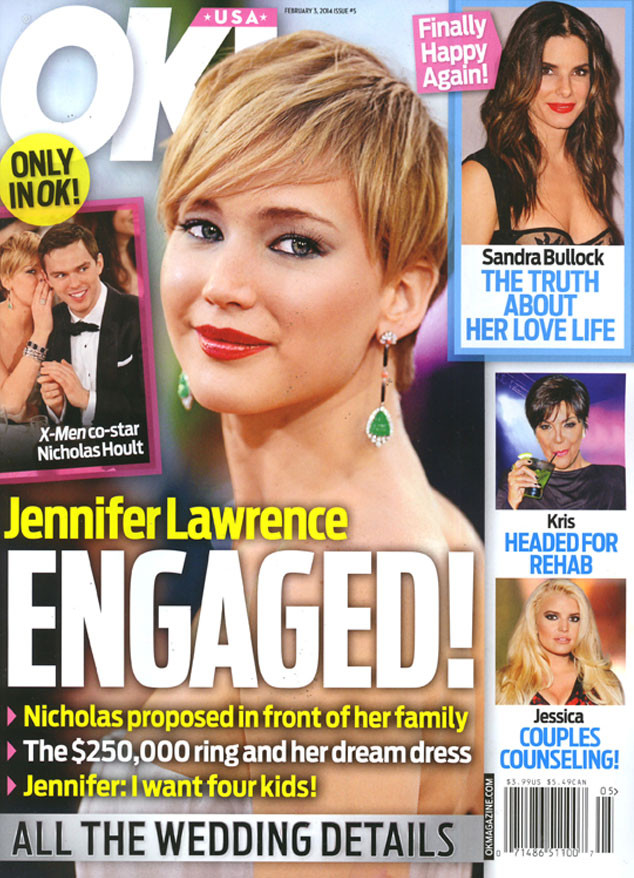 OK! Magazine
Jennifer Lawrence and Nicholas Hoult are in a good place, but they're not talking marriage just yet.
The Feb. 3 issue of OK! Magazine claimed the X-Men: Days of Future past costars got engaged last year. Lawrence was said to be "walking on air" after she tearily and happily accepted Hoult's proposal. While it certainly sounds romantic, there's not an ounce of truth to the tabloid's gushy cover story.
"OK! magazine has issued an apology for completely falsifying a cover story claiming that Jennifer Lawrence and Nicholas Hoult were engaged over the Christmas holiday, in front of her family, and with a $250,000 engagement ring," a rep for the publication told E! News in a statement on Wednesday. "Not only was the basis of this cover story completely fabricated but it is in fact the second time in three months that OK! has published a false story of an engagement between the two parties."