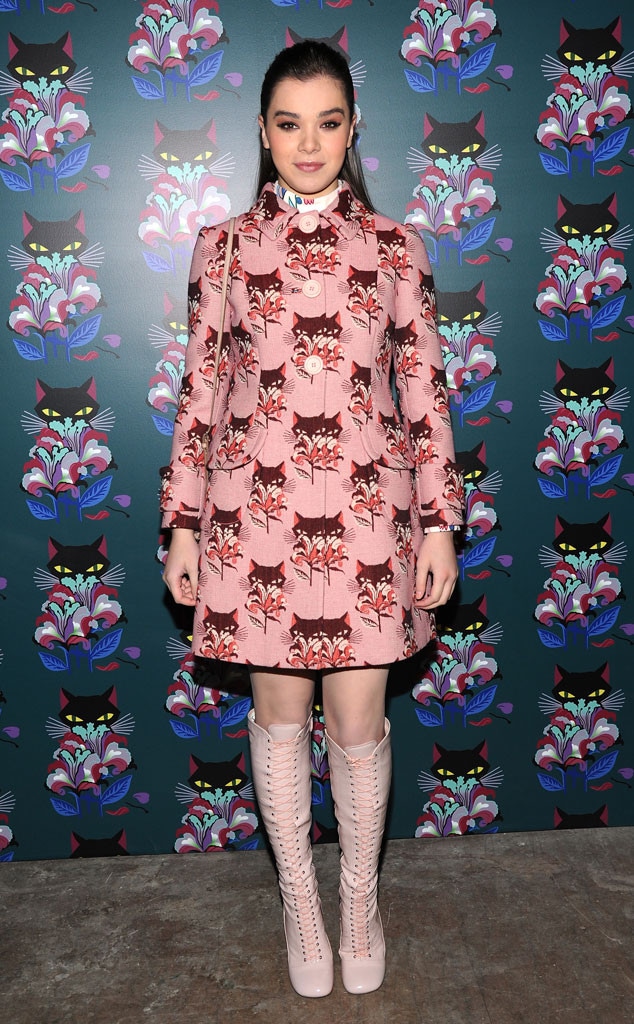 Bryan Bedder/Getty Images for Miu Miu
Isn't Hailee Steinfeld a little too young to be throwing in the towel and devoting her life to a dozen beloved feline friends?
To be clear, we have nothing against people who own and love cats. It's just that the 3 Days to Kill star is looking a lot like that grouchy old neighbor of ours in this Miu Miu outerwear.
Yes, that neighbor might prefer her pets not to be screen-printed on giant t-shirts. But if this jacket ever makes it to the local T.J. Maxx, you know she'll be the first to snatch it up.  
We're being harsh on the little fluff balls but it's really the shape of this coat that makes it an easy, "make it stop!" look in our book.
We know the women of Downton Abbey are rocking the shapeless '30s style but it's not wildly flattering on the Romeo & Juliet actress (or really any woman, as far as we're concerned).
Our sources say the mini skirt and top combo that Hailee wore underneath was positively adorable. Unfortunately, you don't get a second chance at a fashion first impression.  
What's your take on the starlet's style?
1 Fashion Police Feb 12 Poll