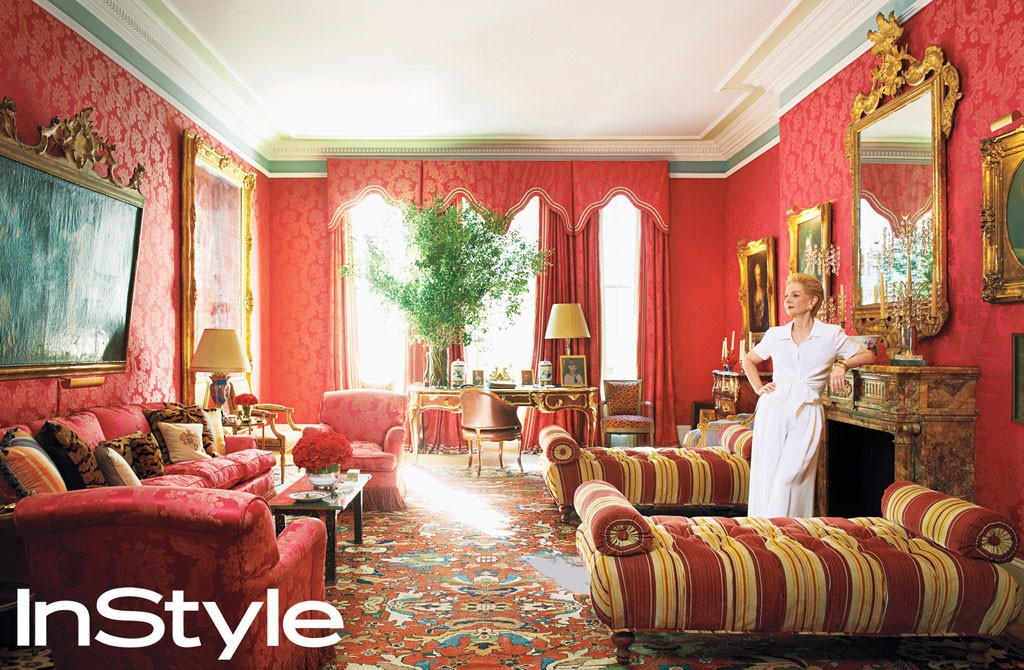 InStyle
Carolina Herrera opened up her stately townhouse in Manhattan's Upper East Side for the newest issue of InStyle, which hits newsstands February 14.
And if you expected the elegant fashion designer to have a breathtaking home with exquisite taste, you'd be exactly correct.
Known for her personal style of a crisp white oxford shirt, the designer just showed her Fall 2014 collection at New York Fashion Week yesterday. The collection was refined and beautiful—with plenty of fabulous separates and printed silk dresses.
So it makes perfect sense that Carolina would live in such a fabulous place. That explains where she gets all of her inspiration!
Carolina shares her home with her husband Reinaldo and their two dogs, Gaspar, a toy poodle, and Marcus, a boxer. "I could never live in a beige and white house—I need to live with a mix of colors and details and styles of furniture," the designer told InStyle. "It has to feel alive." 
So what's inside her impressive home? A gorgeous mix of old and new. There's plenty of 18th-century French antiques and feminine details. 
Carolina loves to fill her home with books and art, and we adore the creative way she's displayed her favorite framed paintings above her fireplace.
The designer also has a framed Andy Warhol portrait of herself. Carolina used to be good friends with the artist back around when she just was launching her fashion line. Excuse us, but we're suffering from a major case of house envy right now! 
Watch:
NYFW Not for the Faint of Heart