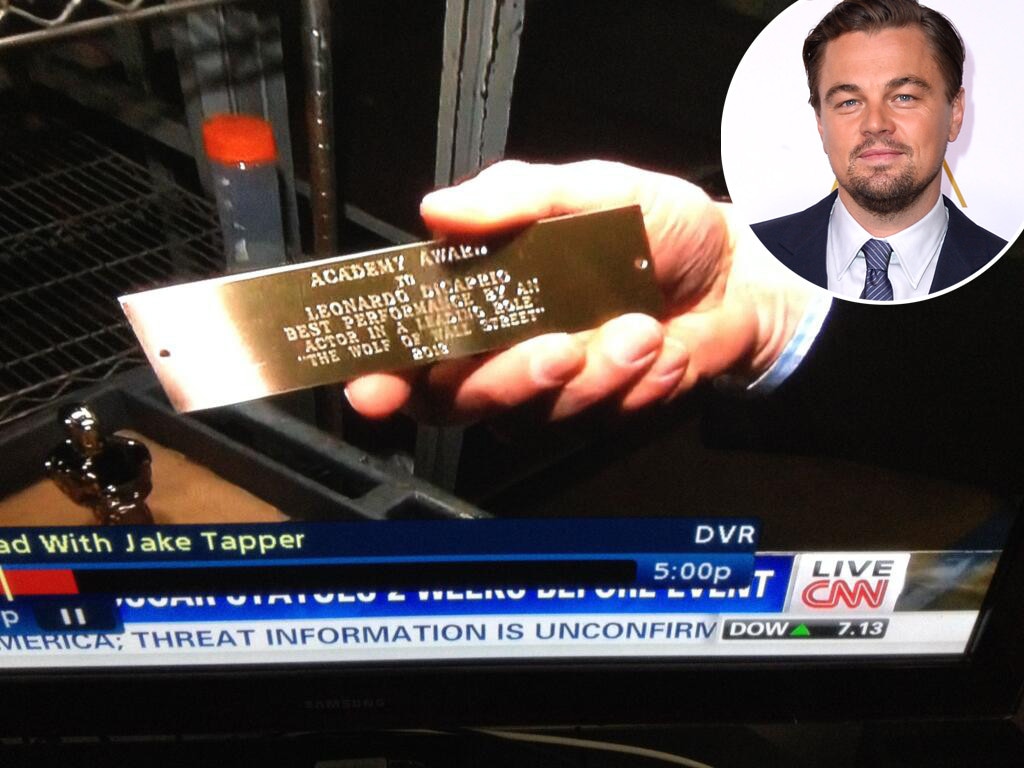 Jordan Strauss/Invision/AP; Twitter
Is it finally Leonardo DiCaprio's time in the Oscar sun?! Has the moment that fans have been anxiously waiting for finally arrived? If you saw the CNN segment on the making of the Oscar statues on Monday night or if you saw the above photo making the rounds on Twitter, then you certainly believe Leo will soon get his Academy Award. So, here's the story on this situation…
Monday night, CNN anchor Ted Rowlands took viewers on a tour of the Chicago factory responsible for those pretty gold naked statues given out at the Oscars. At the end of the segment, a nameplate meant for the bottom of the Oscar was shown, and lo and behold, it had Leo's name on it.
The engraved plate reads: "Academy Award to Leonardo DiCaprio/ Best Performance by an Actor in a Leading Role/ 'The Wolf of Wall Street'/ 2013." The segment ended quickly after that, leading viewers to believe that CNN just accidentally revealed that Leo would be winning the Best Actor award come March 2.
Has the Academy really spoiled the #Oscars best actor as DiCaprio? The votes haven't been counted yet-On CNN!? Am I dreaming? This is MENTAL

? Film Classics (@filmclassics) February 10, 2014
HOLY SCHMIDT. CNN JUST ACCIDENTALLY LEAKED THE OSCAR WINNER FOR BEST ACTOR. #Oscars

? Joseph Robinow (@Joerobinow) February 10, 2014
So did CNN just ruin everything?! Short answer: no. Long answer: seriously, no.
For one thing, voting doesn't even begin until Friday, Feb. 14. That's right, not even one vote has been cast yet for anyone, so there is no way we have a winner yet in any category. Second thing: Nameplates are made for every nominee. So of course Leo has one already engraved. 
After the names are announced on Oscar night, winners get their plates affixed to their trophy at the Governors Ball that follows the ceremony. All the other nameplates are recycled. Sorry, Leo fans. You'll have to wait a bit longer to see if your boy gets his prize.
And as you can see by the following GIF set, the Internet really, really needs Leo to get his Oscar this year:
http://rideitslut.co.vu/post/43961782831
http://rideitslut.co.vu/post/43961782831
http://rideitslut.co.vu/post/43961782831
http://rideitslut.co.vu/post/43961782831