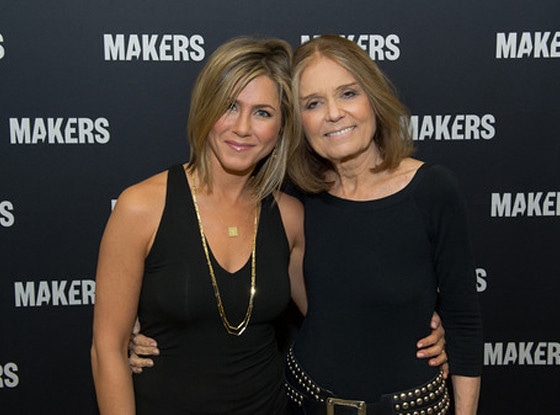 Courtesy of Brian Virgo
Typically, Jennifer Aniston is the one answering the questions, but on Monday, the tables were turned for the actress when she was asked to interview Gloria Steinem. 
E! News has exclusively learned the 45-year-old beauty recently participated in THE MAKERS Conference, a two-day event held at Terranea Resort and Spa in Rancho Palos Verdes, Calif., where 50 of the most innovative and impactful women across varying fields gather to discuss the evolution of the women's movement. 
On Monday evening, Jane Lynch, Marlo Thomas, Sheryl Sandberg and Martha Stewart took their seats in the front row at the small venue, which seated about 100 people, trying to blend into the crowd in order to let the spotlight shine on longtime activist Gloria Steinem. 
Kara Swisher of Revere Digital served as the emcee of evening, introducing Aniston in a nonchalant manner before the former Friend took the stage.
The Horrible Bosses star looked flawless in an all-black ensemble, sporting a form-fitting tank, slacks and four-inch peep-toe pumps. She added gold accessories to her classy look, wearing thin gold-framed eye glasses and a long gold chain necklace.
As for her signature locks? Aniston's hair appeared freshly cut and extension free as the actress rocked a cute bob style. 
Justin Theroux's other half opened by saying, "I don't do this, I'm an actress" as if to imply she had no idea how to conduct an interview although her poised and confidant demeanor could've fooled the entire crowd.
She furthered, "When Makers reached out to me, and when I found out who I'd be interviewing, I of course had to accept." 
The two women bonded over their feminist values and Aniston appeared authentically interested in every word Gloria was saying. At certain points during the interview, she even stopped and asked Gloria to explain things further.  
"Being in the public eye, us women come up against this, that our value and worth is dependent on our marital status and or if we've procreated," Aniston said.
"Well, I guess we're in deep s--t!" Gloria replied laughingly.
To which Aniston echoed, "Well, that's what I thought, we are in deep s--t!"
Jennifer also applauded Steinem for her efforts, "I thank you and honor you for raising women to have a strong voice," she said.
Gloria described herself as a "hope-aholic," which generated a smile from Jen, who exclaimed, "I like that!"
The interview lasted about 20 minutes and all questions were directed at Gloria. 
After the interview was over, Aniston gave Gloria a hug and immediately exited the stage.
In addition to the interview, a short video was played at the conference which explained what feminism is about, with the theme being, how can one not be a feminist?
In the inspirational clip, Alicia Keys, Chelsea Handler, Oprah Winfrey, Margret Cho, Katie Couric, and Sara Silverman [all self-proclaimed "makers" a term coined by the organization] expressed what feminism meant to them.
MAKERS is a digital platform for women to showcase their experiences through story, founded by Dyllan McGee and developed by AOL and PBS.