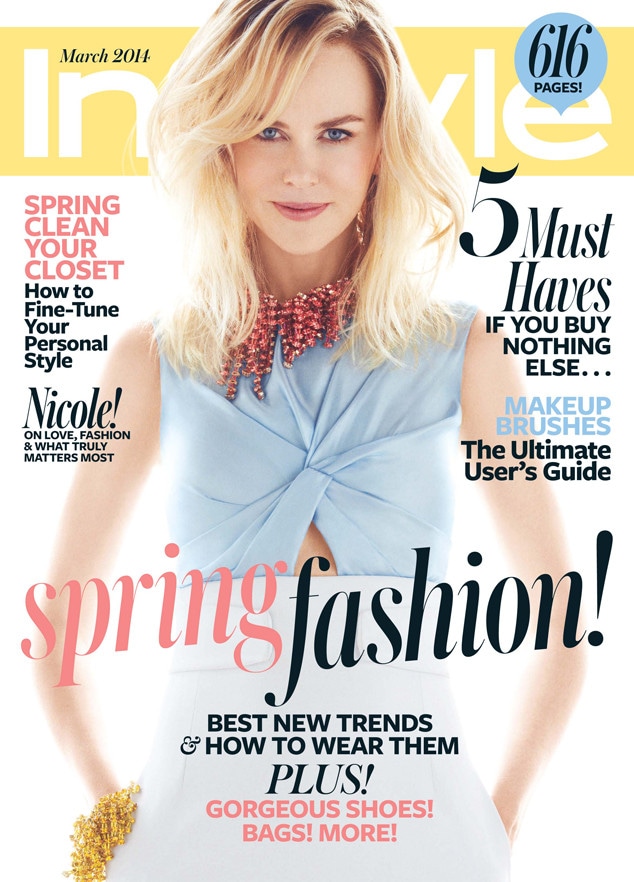 InStyle by Greg Kadel
Good news y'all! Romance is alive and well in Hollywood.
At least that's definitely the case in the marriage of Nicole Kidman and Keith Urban. In a new interview with InStyle magazine the Oscar winner gushes about how her husband-of-eight-years keeps the romance going strong even when he is out of town.
"For every single night he's away, he leaves me a love letter. Every single night of our relationship," she shares in the March 2014 issue.
Of course, the 46-year-old also puts in effort to keep the long-distance to a minimum—even joining him on tour. "That's basically how I've seen most of America, on that bus. Keith and I are both gypsies at heart. We can make our home wherever we are. The girls are like that too now, so we take them everywhere."
The family's official home, however, is actually in Nashville. That is where the A-list pair and daughters Sunday, 5, and Faith, 3, like to spend most of their time. "I'm very country at heart. I have a real desire to be outdoors, a desire for simplicity—a slightly slower, relaxed approach to life," the Australian native shares, adding: "A community, not a big-city feel. That's what I grew up with, and it's what I prefer."
Happiness at home helps Kidman stay very driven at work. "I always try to push through fear. I won't be crippled by it. People say 'Oh you take such risks,' or 'You're brave.' And I'm like 'Well, if you only knew—inside I'm really frightened!' But the way people navigate pain and fear is fascinating."
It probably doesn't hurt that she comes home to prose and poetry by one very talented country singer. Just imagine what he's going to do for Valentine's Day!
Watch:
10 Hottest Celebrity Couples