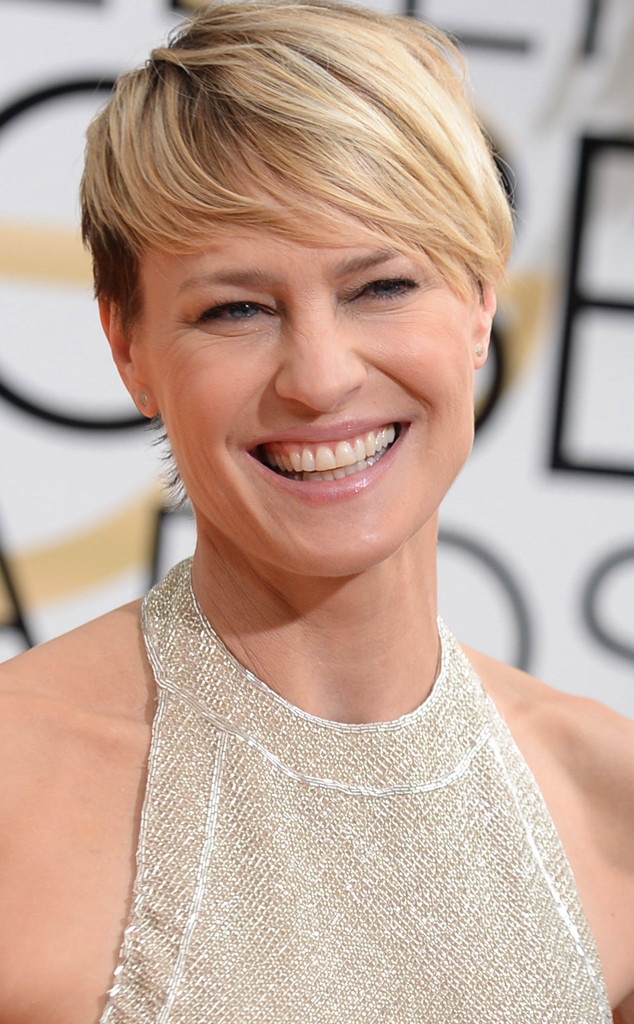 Jordan Strauss/Invision/AP
We've heard all the teasers about how Robin Wright's House of Cards character is going to really come into her devious own in the Netflix series' upcoming second season.
But it sounds like the Golden Globe-winning actress is having a much better time playing herself these days.
First off, she's engaged to Ben Foster, who's 14 years her junior—and she's got the tattoo to show her commitment to the union.
"It's surreal," she admitted to London's Telegraph in a recent interview, showing off a small "B" tattoo on her left middle finger that's otherwise easily hidden by a ring.
"Ben has an 'R' tattoo in the same place," Wright added, laughed. "I've been so anti-tattoos my whole life. But doing this felt right because we're not that traditional."
She said that his proposal after less than two years of dating seemed like a shock, but "we felt married anyway. We've been together ever since the first date." Wright and Foster met while starring in the 2011 crime drama Rampart together, about a year after divorcing Sean Penn. Before that, she was married to Dane Witherspoon for two years in the 1980s.
"I'd never, ever been asked out on a date before," the 47-year-old actress continued. "Never. I was frickin' married my whole life, and even before that I hadn't been asked out."
We find that hard to believe.
But Wright also said that her divorce from Penn after 14 years of marriage and two kids together was "devastating."
"Divorce in and of itself, and with children, is devastating," she said. "Worse than that. One of the reasons why we got back together and broke up so much was trying to keep the family together. If you've got kids, it's a family, and you try again, and you try again. We did that for a long time, and..."
"Sean sees the kids," she added. "They see him. They see me. We've all got our own lives."
Penn, 53 is currently dating Charlize Theron, 38, their impromptu smooch session while waiting at a traffic light in L.A. just last week providing a perfect PDA shot for the trailing paparazzi.
Jordan Strauss/Invision/AP
Anyway, apparently Wright had vowed after divorcing Penn that she wouldn't marry again. But "never say never," she agreed. "Ben and I have a connection between us that just feels right. I don't know any other word for it."
And they certainly made for a great-looking couple on the Golden Globes red carpet last month.
Wright, meanwhile, had no problem admitting that she works hard to look as fabulous as she does.
"Oh my God, Zumba is the greatest invention ever for women," she told the Telegraph. "I like to exercise, though I do nothing consistently because I get bored and impatient. With Zumba, you're dancing, you're moving your hips. So much fun."
As for her face...
"Everybody f--king does it. I suppose I can't say 'everybody' because I don't know for sure, but come on..." she figured. "It's just the tiniest sprinkle of Botox twice a year. I think most women do 10 units, but that freezes the face and you can't move it. This is just one unit, and it's just sprinkled here and there to take the edge off...Perhaps it's not wise to put that in a magazine? But I ain't hiding anything."
And she continues to put her best face forward.