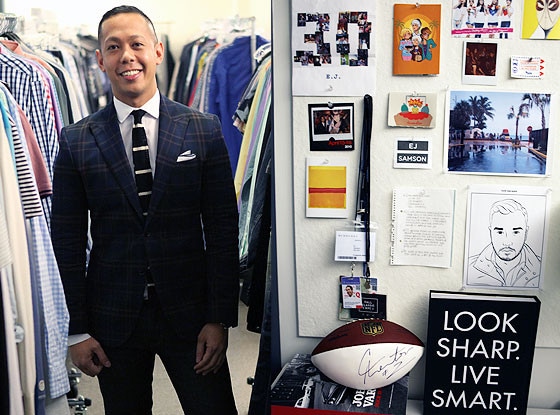 Jennifer Cooper, E!
GQ's digital director, E.J. Samson, and senior editor, Will Welch, are in the business of looking sharp and living smart. That is the magazine's motto, after all.
So, for our latest edition of "Trendsetters at Work," we caught up with the guys to talk about their typical workday, their career heroes and Will's thoughts on OutKast. You'll have to keep reading until the very end for that last one.
E.J. Samson, Digital Director
-----------------------------------------------------------------
What was your very first job?
Selling ALDO shoes at Roosevelt Field Mall on Long Island.
How did you get started in your career?
I interned at New York Magazine during college, and after graduation I applied for print jobs but only found an opening at their website. It wasn't my intention, but my career has been purely digital ever since—I wouldn't have it any other way.
Who are some of your career heroes?
I was a fan of GQ long before I got here, so it's still a little surreal to me that I work for some of the best editors in the game, like Jim Nelson and Michael Hainey. Plus, being in the presence of Jim Moore and the fashion team after years of turning to GQ for style advice is mind-blowing. Beyond GQ, Kelly Maloni at nymag.com is a big inspiration to me. She gave me my first big break, but I'm also in awe of how she's grown that website—it's still one of my favorites. I also worked for Amy Astley at Teen Vogue, and I really admire her commitment to connecting with readers.
What's a typical workday like for you?
It varies, but a typical day blends meetings, signing off on previews, brainstorming future web features, obsessively checking social media, and staying up to date on my favorite sites and blogs. Then more meetings.
What was the inspiration behind your office décor?
It's definitely a work in progress. I made a New Year's resolution that in 2014 my office will look less like a dorm room, so I'm trying to decorate it more thoughtfully. My favorite new piece is this world map my partner gave me. You scratch off the countries you've visited like you would a lottery game. It's a good reminder that as much as I love my job, there's an entire world out there to see.
List five things that are on your desk right now.
1. Eclectic by Tom Dixon candle. I like the spicy scent, but I love the brass casing even more. It's like a work of art.
2. GQ Men. This book is full of iconic photographs from the magazine's archive, but one of my favorite parts is actually on the back cover, where our magazine's motto, "Look Sharp. Live Smart." is printed, so I display it from that end.
3. Personalized Cartier note cards. As much as I'm a digital guy, I still appreciate old-school gestures, like a hand-written note.
4. QuarterTwenty Knucklehead Bottle Opener. It's made of recycled steel and doubles as a really cool paperweight.
5. Signed Kate Upton cover. The day we revealed Kate's cover on GQ.com our traffic went through the roof. It's a nice reminder of one of the biggest days in our site's history.
What do you typically wear to work?
A fairly strict uniform of blazer, shirt and tie, jeans, and dress shoes. I try to practice what we preach! Plus, I'm in tons of meetings on any given day, and I think it's a lot easier to command a room when you look the part. 
What's the best piece of career advice you've ever received?
Whenever I go to my friend Eva Chen for advice, she'll inevitably tell me to ask for what I believe I deserve. I think that applies to many aspects of life, but particularly for anyone trying to climb up the corporate ladder. Eva's now the editor-in-chief of Lucky, so I think she's on to something.
Finish the sentence…
Today for lunch I had…sushi from our cafeteria.
The first website I log onto every day is…does Instagram count?
*The beauty product you can always find in my purse is… uhh…
My must-have work gadget is…my iPhone. (Though my brand-new Nokia Lumia 2520 tablet is running a close second.)
My usual Starbucks order is…a tall hazelnut soy latte.
If I need a quick break during work, I usually…check Instagram. Take the occasional selfie.
If I wasn't doing this job, I would be…plotting how to get this job.
The best part of my job is…the people. Hands down.
*Editor's Note: We do not assume either E.J. or Will carry purses filled with beauty products. We ask the same questions to all our Trendsetters at Work, most of whom carry purses. 
Will Welch, Senior Editor
-----------------------------------------------------------------
What was your very first job?
Cleaning hunting dog kennels as a tween in Atlanta, Georgia.
How did you get started in your career?
I started as an intern at The Fader, a New York-based music magazine, while working nights hauling ice and trash as a bar-back at a place in Manhattan called The Park.
Who are some of your career heroes?
I look up to Andy Ward, a former GQ editor who now works at Random House editing great writers like George Saunders. Andy seems to manage a ton of work while also being wholly committed to and present with his family. I am striving for that level of balance. (And failing, so far.) I look up to Glenn O'Brien, also known as the GQ Style Guy. I've been Glenn's editor for the last few years and I respect his work ethic, the razor-sharp wit of his writing, and the fact that he is essentially Glenn O'Brien for a living and—relative to most of us anyway—beholden to no man or corporation. Finally, I gotta say that I also look up to Kanye West. For the way he sets outrageously outsized and borderline ridiculous goals for himself and works and seethes and rages until he achieves them—or until he fails. You can't tell him nothing, and I could use some more of that unstoppable energy.
What's a typical workday like for you?
Meetings and email! Just like every other poor sap with a desk job.
What was the inspiration behind your office décor?
I have a lot of books that I've acquired over the years as reference material for different projects—everything from monographs of artists like Chris Johanson and David Hockney, to non-fiction by Luc Sante and Tom Wolfe, to the awesome new coffee table book we just published, GQ Men. I also keep two walls of rotating photos going—a combination of my own photos and stuff I've printed out from the Internet. Sometimes I think the best part of having a desk job is free access to a color printer.
List five things that are on your desk right now.
1. A pencil drawing of Big Boi, from OutKast, by the musician and artist Brian DeGraw.
2. A small envelope of Larry Clark photos I bought in December and need to take to the framer.
3. Proofs of the new special issue of GQ we're working on at the moment. It's called GQ Style: What to Wear Now and it comes out in March.
4. An advance of the new Damon Albarn album, Everyday Robots.
5. A packet of invitations and seat assignments for New York Fashion Week.
What do you typically wear to work?
Black jeans by Ralph Lauren or Levis. Black Grateful Dead tee with art by Wes Lang or black pocket tee by James Perse. Black Levis trucker jacket. Black boots by Timberland. Fresh socks and underwear.
What are your favorite stores to shop for work clothes?
I recently had Sid Mashburn, in Atlanta, make a suit for me. Money well spent.
What's the best piece of career advice you've ever received?
"Dude, quit taking on more work than you can handle." —Adam Rapoport, former GQ editor (currently editor of Bon Appétit).
Finish the sentence…
Today for lunch I had… a veggie burger with spicy coleslaw that my wife made for me.
The first website I log onto every day is…www.jointheexpansion.com, my personal photo blog.
The beauty product you can always find in my purse is… One day, I will have the confidence to carry the man purse of my dreams.
My must-have work gadget is…a pencil. You gotta be able to erase and try again.
My usual Starbucks order is…a medium coffee. I know it doesn't make me as punk rock as I'd like to think, but I cannot bring myself to use their corporate cup-size terminology.
If I need a quick break during work, I usually… text my wife something about love, kittens, or cookies.
If I wasn't doing this job, I would be… publishing an OutKast fan zine.
The best part of my job is… the money and the power. (I'm kidding.)