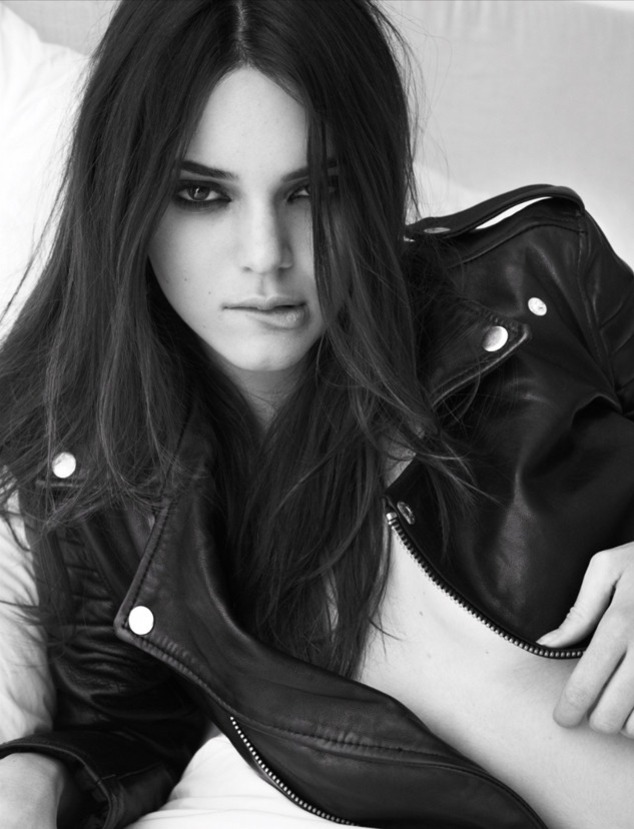 W Magazine
Instagram is going NSFW.
At least, thanks to the latest W magazine photo shoot, dubbed "Pillow Tweets," which features a slew of social media celebs posing semi-nude in a series of super-sexy shots.
Vanessa Hudgens, Kendall Jenner and Miley Cyrus are just a few of the famous faces who posed for the pics, which were all photographed in black-and-white as each of the stars flaunts their enviable figure in a boudoir setting.
The 18-year-old Keeping Up With the Kardashians star is certainly showing off her sexy side in the revealing photo, biting her lip in a seductive manner while posing wearing only a leather jacket—sans a shirt or bra.
"I have eight siblings and one full one. I can barely keep up," the caption on the pic, in which Jenner also sports smoky eye makeup and unkempt bedroom hair, reads.
Hudgens, 25, who has also grown up in the spotlight, is featured stripping down to nothing but a pair of Eres lingerie briefs as she sits perched atop a big white bed with a large comforter wrapped around her nearly naked bod. She's sporting long hair extensions and what appear to be clip-on bangs as she gives the camera a sexy stare.
"Disney star-turned-spring breaker; Pilates and spinning addict," the former High School Musical star's bio says.
And of course Miley Cyrus, who also models naked on the magazine's latest cover, decided to bare all inside the issue, posing completely topless as she shows off her breasts, placing her hand over her chest as she stares transfixed at the ceiling.
"Tongue wagger," the caption on Cyrus' bio appropriately states.
There's also the wonderfully handsome Joe Manganiello, who's showing off his bulging biceps while lying shirtless in a bed as well as the always gorgeous Miranda Kerr, who's kindly flaunting her nude bod yet again.