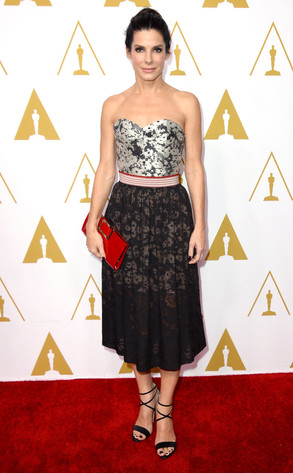 Jordan Strauss/Invision/AP
Happy almost Oscars!
You know the big show is just around the corner when the Academy of Motion Picture Arts and Sciences throws its annual nominees luncheon.
And that's exactly what's happening today.
Most of this year's Oscar contenders gathered at the Beverly Hilton a little while ago to schmooze, have some lunch and receive their official nomination certificate. The day will be topped off with everyone huddled together for a group shot à la a high school class picture.
Who did we see today? Leonardo DiCaprio, Cate Blanchett, Sandra Bullock, Lupita Nyong'o, Matthew McConaughey, Jared Leto, Meryl Streep and many more.
The nominees were also given some instructions on what to do if they win when the awards are handed out on March 2. "Please, get to the stage quickly—really quickly," Oscars co-producer Craig Zadan said.
Winners will be given exactly 45 seconds to say their thanks before the band starts playing. Zadan urged everyone not to read "from a list written on a piece of paper" when accepting the gold statuette. Instead, he said, give a speech that is "personal, funny and heartfelt."
Now have a look at all your fave stars in our Oscar Nominees Luncheon photo gallery.