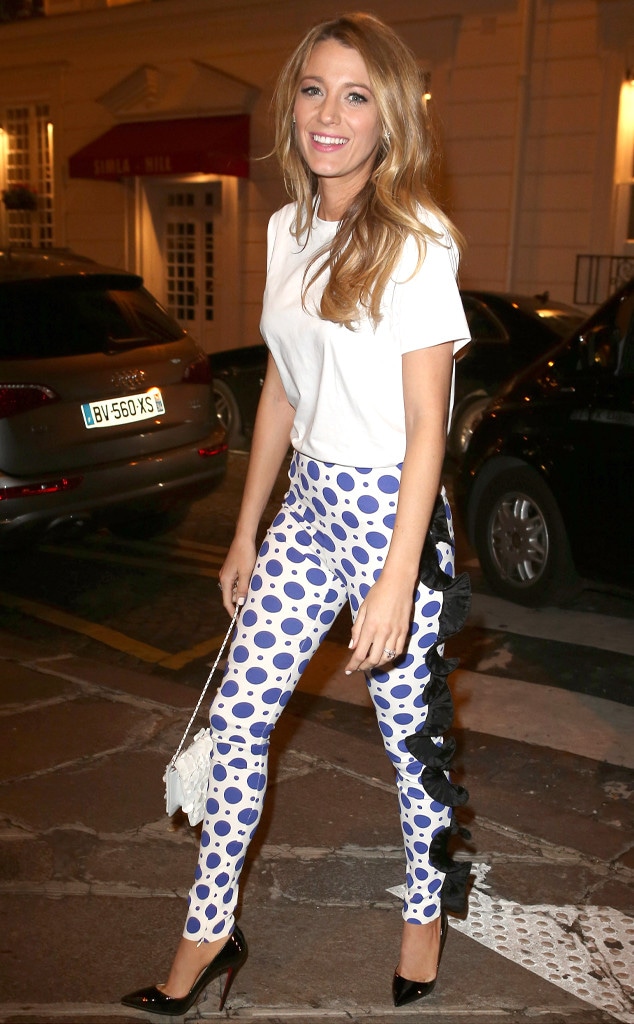 CHP/FAMEFLYNET PICTURES
Blake Lively has never been shy about her love of food—and now she's putting her taste buds to use for a good cause.
The 26-year-old blond beauty was spotted on Tuesday in Winthrop, Mass., where she visited BlackStrap BBQ restaurant and enjoyed a three-hour family-style feast which included smoked chicken, corn fritters, fried pickles, onion rings, collard greens, baked beans and corn bread.
Yum!
Ryan Reynolds' other half chowed down with the owner of the restaurant, Kate Economides, in addition to her PBS crew, as the erstwhile Gossip Girl star was in town to film a sex trafficking TV special.
"Blake was so down to earth, just like a girl next door. You can tell she is a very caring person, using her celebrity status to do good," Economides tells E! News. "Whenever I came to the table, Blake made it a point to look me in the eyes and say thank you."
While the food was originally pre-ordered, the group had to order more because they simply couldn't get enough of the Southern comfort meal.
And Blake was apparently a very satisfied customer.
When the crew left, Blake went up to Kate and told her she was from Georgia, exclaiming that her restaurant "nailed it," an eyewitness said.
The source added that everyone hugged one another when saying goodbye, just as if they were all longtime friends.
This certainly isn't the first time that Lively has been spotted noshing on some homestyle Southern cookin'.
The Savages star previously celebrated her one-year wedding anniversary with her hunky hubby in September 2013 at the historic Mrs. Wilkes Dining Room in Savannah, Ga., where the down-to-earth duo enjoyed an all-you-can-eat meal, which included fried chicken, beef stew, homemade biscuits, corn bread, various vegetables and mac and cheese.
Lively previously told French Vogue she does "nothing" to stay in shape in addition to beginning and ending her day with a sweet treat.
"I don't really need a personal trainer, or watch what I eat," she said. "I can't start the day without a hot chocolate, or finish it without a few squares of dark chocolate. It's good for my mood!"
Lucky girl. Keep up the do-gooding, Blake!
—Reporting by Michelle Falls