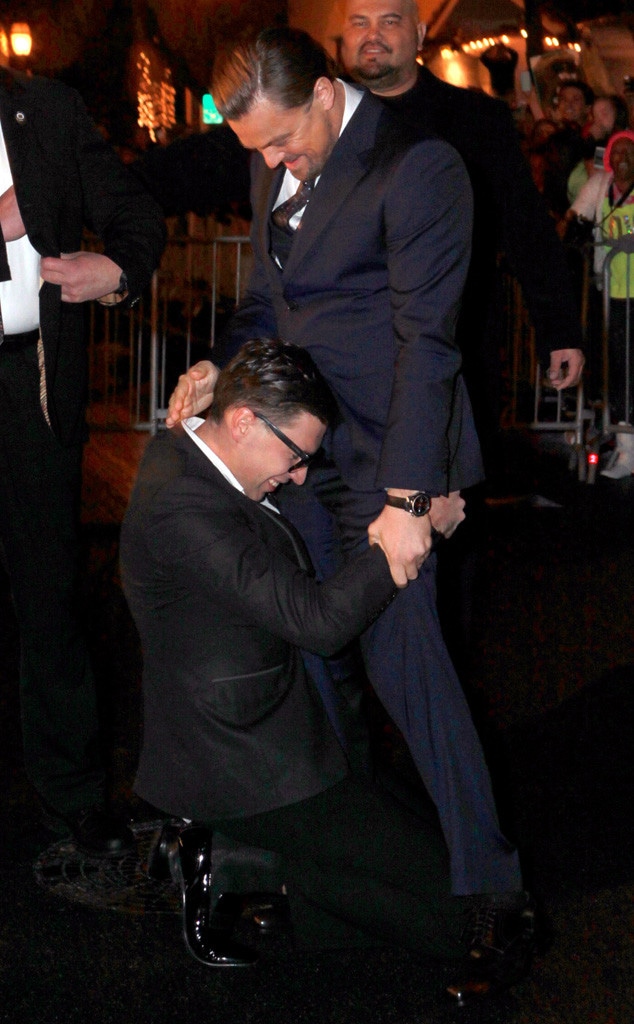 Rebecca Sapp/Getty Images for SBIFF
Bradley Cooper can totally relate.
Less than a month after Vitalii Sediuk took it upon himself to nestle his noggin in the American Hustle star's crotch on the red carpet at the Screen Actors Guild Awards, the 25-year-old Ukrainian journalist has struck again.
His latest target? None other than Leonardo DiCaprio. Or should we say, Leonardo DiCaprio's nether regions.
Soon after arriving at the Santa Barbara International Film Festival on Thursday, the Wolf of Wall Street actor came face-to-face with Sediuk, as the prankster proceeded to kneel down and wrap his arms around the Oscar nominee's legs. (OK, not exactly face-to-face, but you know what we mean.)
Ethan Miller/Getty Images
While DiCaprio was no doubt surprised, he did seem to take the inappropriate PDA in stride, cracking a smile as it was happening.
A rep for the film festival tells E! News that Sediuk "broke through the barricade and did this. He was 'escorted' off the premises and now blackballed."
Sediuk is certainly no stranger to such antics.
In May 2012, Seduik kissed Will Smith at the Moscow premiere of Men in Black 3. The visibly angry actor responded by shoving and slapping him. "He's lucky I didn't sucker-punch him," Smith said of the unwelcome shenanigans.
And in February 2013, presenter Jennifer Lopez successfully thwarted Sediuk's plans to ruin Adele's acceptance speech at the 55th Annual Grammy Awards. "It's such an honor to receive this award," Seduik said before J.Lo intervened and cut him off. The stunt landed him in jail overnight.