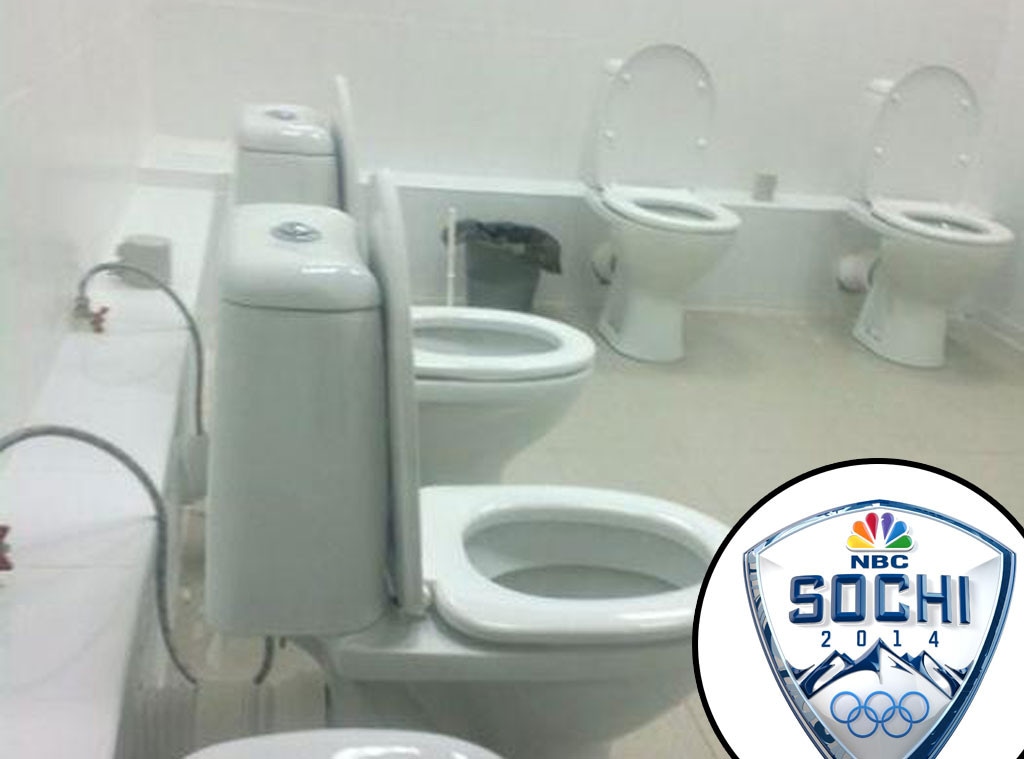 Max Lomakin/Twitter
To say that the Winter Olympics in Sochi, Russia are getting off to a bumpy start would be an understatement. Things in Russia were bumpy months ago and Russia's anti-gay laws (which has resulted in continued violence against the LGBT community) and Sochi's war on dogs have created a tense atmosphere surrounding the Olympics.
Their toilet situation in Sochi is not as bad as all that. But it still sounds effing uncomfortable.
And amusing, which is why media types and athletes alike have been tweeting pictures of the side-by-side toilets they've found in Russia. At least one bathroom (above) apparently allows whole teams to poop together! That's bonding! 
(We don't even know what's going on in that last picture. There's only one toilet, but there's also a whole row of chairs for other people to sit and watch you go? Which may be worse?)
Either way, do make sure you follow Russia's strict bathroom policies (again: What is happening in that last picture? We understand no fishing in the toilet—duh—but what's after that?!)
Perhaps if Sochi had spent less time doubling up on toilets, they could have got everything else together in time for the Games. Because despite spending a reporter $51 billion on hosting the Olympics, three of the nine hotels still haven't been completed (the athletes' quarters are fine) and the hotel that are have their own issues going on.
Here is a selection of dispatches from Sochi, starting with more bathroom confusion:
Some people were welcomed with a reminder that Putin is always watching:
Some people found a silver lining where the was no silver lining to be found:
My hotel has no water. If restored, the front desk says, "do not use on your face because it contains something very dangerous." #Sochi2014

? Stacy St. Clair (@StacyStClair) February 4, 2014
Also on the bright side: I just washed my face with Evian, like I'm a Kardashian or something.

? Stacy St. Clair (@StacyStClair) February 4, 2014
Some people have really bonded with their hotel's owner:
Ok, so my hotel doesn't have a lobby yet.

? Mark MacKinnon (@markmackinnon) February 4, 2014
For those of you asking, when there's no lobby in your hotel, you go to the owner's bedroom to check in. #Sochi2014

? Mark MacKinnon (@markmackinnon) February 4, 2014
Some people learned that not having Internet isn't always the worst thing:
I have a room! No heating or internet, but it has a (single) bed at least...

? Shaun Walker (@shaunwalker7) February 4, 2014
Some people had no door knobs:
Made new pal from La Presse as we struggled to find hotel. When we got to our (temporary) rooms his doorknob came off in hand #roadtosochi

? katiebakes (@katiebakes) February 4, 2014
And some people realized it didn't matter whether you had a doorknob or not:
It's just past 4:30am here. Someone just unlocked, opened my door, saw I was in bed and scurried away without a word. Seems about right.

? Brian Costa (@BrianCostaWSJ) February 5, 2014
And then there's this. Which seems like, yeah, it might be an issue:
"We've put 100,000 guests in rooms and only gotten 103 registered complaints and every one of those is being taken care of," Deputy Prime Minister responsible for Olympic preparations, Dmitry Kozak said (via Wall Street Journal). 
"The realization of such a project is an enormous victory for the entire country," he continued of Russia's new stadium and accompanying accommodations. "As we say in Russia, victors don't get blamed."
(Which is not a saying that we have ever heard or understand.)
Kozak also claimed that Westerners may be attempting to sabotage Sochi's success: "We have surveillance video from the hotels that shows people turn on the shower, direct the nozzle at the wall and then leave the room for the whole day," he said, before a spokesman clarified that there "is absolutely no surveillance in hotel rooms or bathrooms."
But, you know...