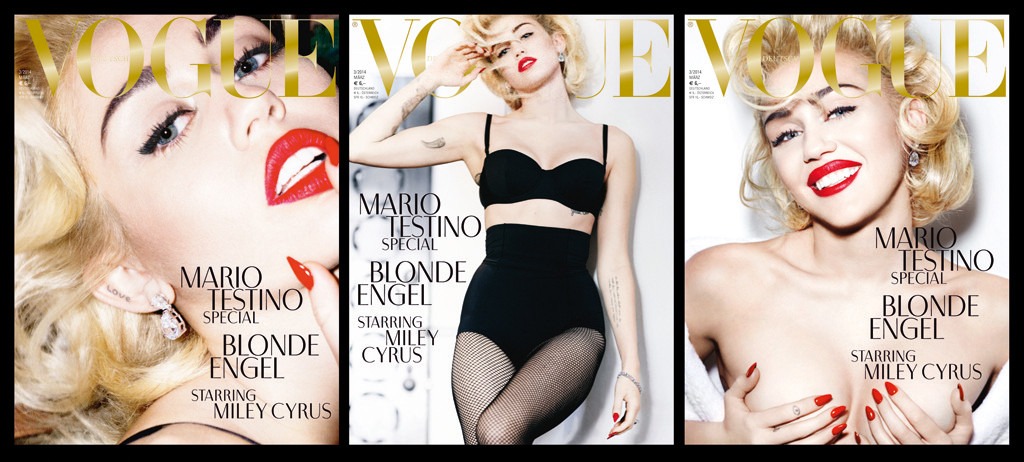 Vogue Germany
Another day hour, another look at a topless Miley Cyrus.
Having already given us a glimpse earlier this morning of herself baring most of her body while in bed with two male models, the pop star later decided to give us a peek at her revealing appearance on the upcoming cover of Vogue Germany's March issue. (Make that three covers!)
While one offers a close-up of Cyrus' sultry face, the other two provide a bit more, including the 21-year-old's breasts strategically covered by her hands.
While the "Wrecking Ball" singer's look—complete with platinum blond hair and red lips—definitely has a Marilyn Monroe feel to it, there's certainly a bit of a Madonna-in-her-prime vibe going on here as well.
Of course, that's not too surprising seeing how the music icon joined Cyrus during her MTV Unplugged special that aired on Jan. 29 for a mash-up of "Don't Tell Me" and "We Can't Stop." Not to mention, a fair amount of bumpin' and grindin' between the two artists.
"She's the kind of person that you can do whatever you want once you're on stage," Cyrus gushed to E! News about Madonna. "It's fun to be on stage with someone who is fearless. You don't have to think, 'Oh, should I do this?' or 'Are they not going to like that?' or 'Are their people going to be mad if I do that?'"
She added, "It's nice when you work with someone who, like myself, doesn't really have anyone that you have to answer to, so it was really good being able to do that with her."