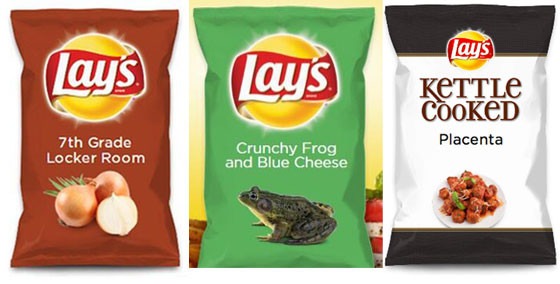 Lay's is at it again with their Do Us a Flavor contest, where anyone can create a potato chip flavor and submit it on their website. Lots of people are taking this seriously and are trying to win that big $1 million prize by creating delicious flavors that people will truly want to eat.
Other people are doing the opposite of that. You can create literally any flavor you want and see it come to life on a Lay's bag.
Want to see what the human race has been up to since the contest launched? Well…
Jesus. Everything is featuring Pitbull nowadays. 
A different way to tell your dad that you know the truth. Better or worse than a cake?
http://ihatepeacocks.tumblr.com/
When regular-flavored Nicholas Cage doesn't do it for you.
The joke here is that people do actually eat placenta. Oddly enough, the picture on the bag looks a lot like Kung Pao Placenta.
Where is the photo representing the raging hormones brought on by puberty? 
Nothing says "yummy!" like a 16th century English settlement!
http://fire-dad.tumblr.com/post/74961295781/vote-for-my-flavor
When your choice in degree drives you to drink.
Everyone has had this flavor once in their life.
So every bag of chips ever?
http://forfeited.tumblr.com/post/75123214090
You thought your secret was safe. You thought everyone forgot what you did in there. Lay's remembers. Lay's always remembers.
This is disgusting! This man should be ashamed of himself! Does he think this is a joke? What the hell kind of flavor is that? Everyone is having a lighthearted good time over this contest and then this awful human submits this? That flavor is not funny! It's insulting, it's criminal and it's representative of everything that's wrong with humanity. Despicable.
Which one of these enticing flavors would you eat? Our pick is David Bowie's bulge, for sure.