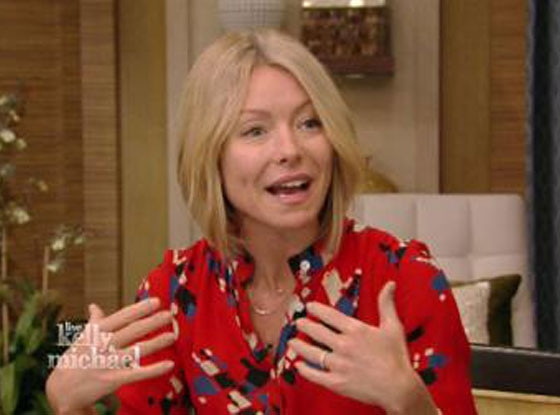 ABC
Sucks losing a bet, right, Kelly Ripa?!
On this morning's episode of Live With Kelly and Michael, Ripa and Michael Strahan walked on stage and the 43-year-old blond beauty was noticeably wearing no makeup.
"Calm down, we'll all get through this together," Ripa joked to the audience while starting the show. "Don't adjust your dials. There's nothing wrong with your TV. One of us is wearing makeup today, and one of us isn't. Not even anti-shine. I labored under the delusion that I looked OK without makeup until I came out here and I went, 'Oh my God!'"
"You look great," Strahan said. "And really fresh." Strahan went on to explain Ripa was wearing no makeup because they made a "big Super Bowl bet" that she lost.
"I've never lost a Super Bowl bet, ever, in my life," Ripa, who looked gorgeous sans cosmetics, said. "So imagine: A, losing, B, losing and you can't wear makeup and C...what's C?"
"George Clooney is here today," Strahan cracked.
"Which really only punishes George Clooney, who's a national treasure," Ripa joked.
"You look great," Strahan reiterated. "I'm happy you lived up to your bet."
Later on in the show, Ripa came face to face with Clooney, who joked about his BFF and Monuments Men costar Matt Damon. "It's not easy to direct Matt Damon," he said. "I catch him stealing every once and a while. Oh yeah."