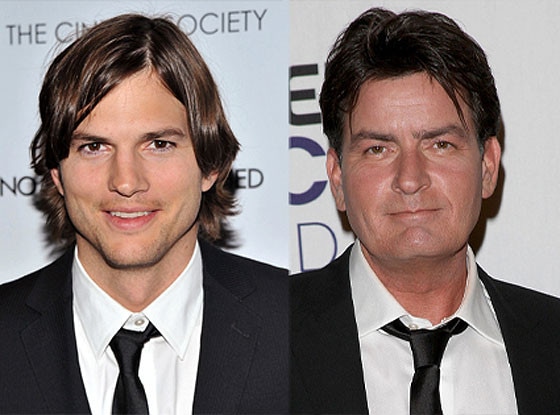 Stephen Lovekin/Getty Images; Stephen Lovekin/Getty Images
It seems that Charlie Sheen caught wind of Ashton Kutcher's interview on Jimmy Kimmy Live! Wednesday night.
The 35-year-old actor addressed his Two and a Half Men predecessor's incessant Twitter bashing on the late night talk show last night, where he couldn't hide his frustration while making an amusing public plea to Sheen, who was fired from the hit CBS comedy three years ago, leaving Mila Kunis' man to step into the sitcom's spotlight.
"Dude, shut the f--k up!" Kutcher exclaimed. "Seriously, like. Enough already. Like it's like three years later and you're still blowing me up on Twitter. Like come on dude, really?"
Case in point: Charlie tweeted to Kutcher to "quit barfing on my old brilliant show" last month.
The tiger-blooded Warlock, who has never been one to hold back, has since responded to Kutcher's remarks, and despite his initial apology, he seemingly won't be changing his harsh tone on Twitter anytime soon.
"Ashton message received," the 48-year-old Anger Management actor wrote. "so sorry u sounded like me! well done! my bad I was pissed at other crap & took it out on you. hope u r good xo."
However, in true Sheen fashion, the apologetic tweet was followed up with a threatening message just two hours later.
"but news flash Dood, you ever tell me to shut the F*** up, EVER again and I'll put you on a hospital food diet for a year. c," he wrote, signing the tweet, "#YaFeelMe Jr?"
While there's clearly a little animosity between these two, the pair haven't always had beef.
Sheen previously met up with his Two and a Half Men replacement backstage at the 2011 Emmys, posting a WhoSay photo of himself "Giving the new kid a little advice.."
"Seriously... @aplusk [Ashton's Twitter handle] great talking to you!" Charlie added. "We'll all be watching! Make us proud!!"
Care to weigh in, @aplusk?