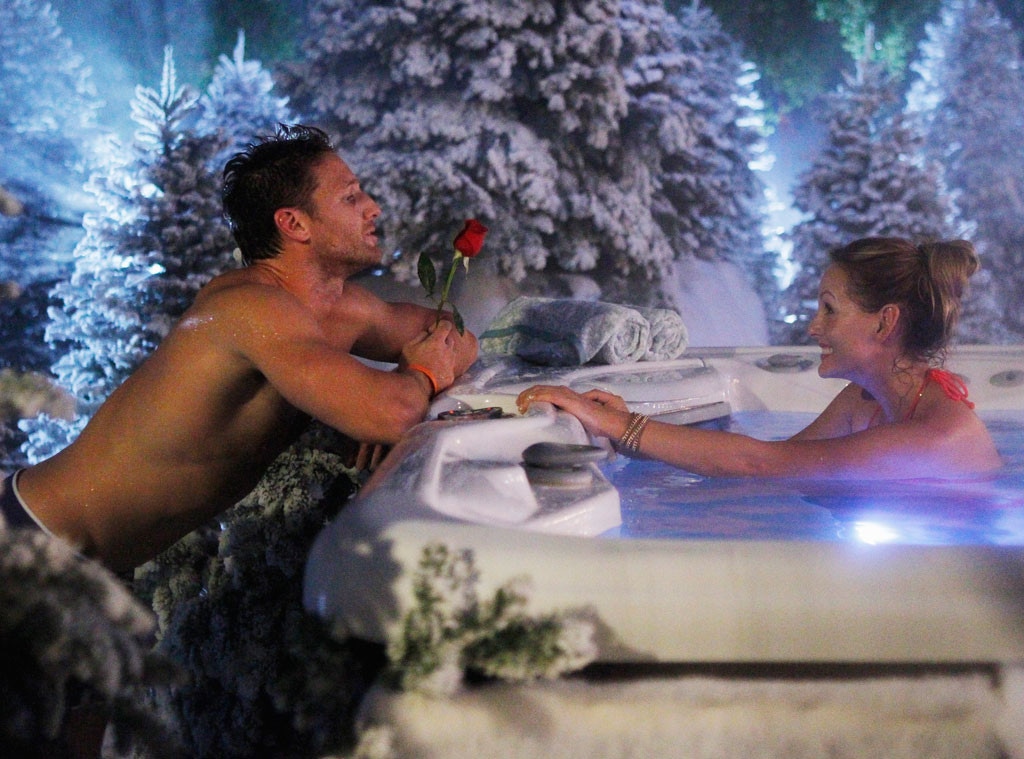 ABC/Rick Rowell
Did they or didn't they?
After Monday's episode of The Bachelor, fans were left wondering if Juan Pablo Galavis had sex with Clare Crawley, who snuck out of the hotel room she was sharing with the other contestants to pay the Venezuelan Bachelor a visit at 4 a.m. The two then got a little hot and heavy in the ocean. Cut to the cocktail ceremony the next night, where Juan Pablo "blindsided" Clare by saying he regretted what they did, calling it "a mistake." Clare, of course, was upset and defended herself, and viewers expressed their disappointment in the way Juan Pablo made the 32-year-old hairstylist feel bad about her actions.
Now, Clare is breaking her silence and setting the record straight about what went down between her and Juan Pablo. 
"I love getting my side of it out and to have a voice to stuff that happened and be able to elaborate on things," she told E! News before detailing what happened (or didn't happen!) in Vietnam. Plus, she talked about her family's reaction to the episode, what's ahead for her relationship with Juan Pablo on the ABC reality hit, saying, "I don't like feeling uncomfortable or shamed or talked down to."
E! News: What exactly happened in the ocean? Because there's been a lot of speculation.
Clare: Nothing happened in the ocean! [Laughs.] I know there's definitely a lot of speculation about it, and I guess I do appreciate this opportunity to make it very clear, because it's a little strange to me that nobody's made it very clear. Nothing happened and what had happened was simply that two people were living in their heart and being in the moment and falling in love. I was falling in love and I was checking off an item on my bucket list, which was to swim in the ocean and enjoying the moment.
So were you surprised by Juan Pablo's convo? Because you definitely seemed blindsided.
To say the least. I was definitely blindsided. I knew, he knew, everybody involved knew nothing happened, and so in my eyes, we're adults and I would do it all over again in a heartbeat. I found nothing wrong with it. I was doing something that I wanted to be doing and we're allowed to swim in the ocean. There's nothing shameful about it.
What did you think of the editing for the ocean scene?
I think it left a lot for people to interpret it any way they wanted to. I don't think a lot of things were made very clear, which in the moment of it all, everything was very clear. It was definitely surprising that things were taken out of context.
Watching the episode, was it weird for you that he was hesitant to even kiss Renee, a single mom, and yet made out with a lot of the other girls? A lot of viewers have found that odd and hypocritical.
I feel it weird that there's so much gray area. I think that when you're the lead and you're in a situation like this, you need to be very clear what your intentions are, and you need to be very clear on what you want. Watching it play back, I can see how people were confused. I can see how people, me included, didn't know what direction they were going in.
Do you think it was fair to you that he brought his daughter Camila into the conversation as a reason why the kiss in the ocean was a mistake?
I think him bringing Camila into this, I don't know if "fair" is really the word I would use, I think it was coming from an honest spot from him and it was a concern from him, but I feel my side of it is that I knew going into this that he had a daughter and coming into this I have nieces and nephews, and I am also a woman of integrity, and I would never disrespect him or his daughter. If that was the case, I wouldn't have come on the show or I would've eliminated myself…I would never do something to monopolize that or jeopardize that. It's not in my nature. I wouldn't do that on-camera or off-camera.
We found it refreshing that you defended yourself by saying you weren't thinking of the cameras and were just doing what you would've done in real life. But after that had happened, were you nervous to see how this was going to go down on the show? What was your reaction when you watched the episode?
I was a little bit more nervous, because I think when you're in the moment of it, a lot of times you don't remember what you say or you don't remember how you handled it. It's such an extended period of time of filming that's so emotional and so a lot of thing you don't really remember. I forgot how I handled it, but prior to watching it back, I wanted to make sure that I stood up for myself and that it came across that I won't let someone demean me or make me feel bad or make me feel shame for something that isn't wrong. I didn't want to look like I did something wrong or like a pushover. I didn't want it to look like that.
What was your family's reaction to what happened between you and Juan Pablo?
Obviously, I think being the youngest out of six women, they're going to be defensive. They don't want to see their baby sister cry and they don't want to see their baby sister hurt. Even though I'm 32, I'm still their baby sister and it's hard to watch. It's hard to see somebody that you love hurt. So it was very hard for them to watch.
And can you preview what we'll see in the next episode? Because the preview shows you were still pretty upset over what Juan Pablo had said to you.
I wasn't trying to drag anything out, it was more that I needed clarification, because I wasn't OK with how he made me feel. It wasn't so much his reasoning behind it; it was how he made me feel. I don't like anything that's wishy-washy. I don't like feeling uncomfortable or shamed or talked down to about something that I still believed wasn't wrong. I didn't understand really why he didn't understand my intentions. I just needed clarification.
We know you said you would do it all over again, but do you think going to his suite that night impacted your relationship with him and how you'll look back at your experience on the show?
I feel like any sort of bumps in the road can either create cracks or it can make things stronger. That's real life. There's always going to be disagreements, there's always going to be hardships. Life isn't always perfect and fantasy. It's those things that determine how the end works out and if you stay together because that can show true strength in a relationship, how you handled stuff like that. It's not always easy.
Finally, are you happy with how everything turned out?
100 percent. I don't regret a thing. I did my best. He's not perfect, I'm not perfect, none of us are perfect. We're all human. It's whether or not you hold yourself with integrity and I know everybody sees just a miniscule amount of what truly happened and they see editing, and I know what happened. I know I gave everything my best and put 100 percent into that. I was as real as I could be and as honest as I could be, whether or not it was right or wrong or cool or not cool. So I don't regret that.
The Bachelor airs Mondays at 8 p.m. on ABC.