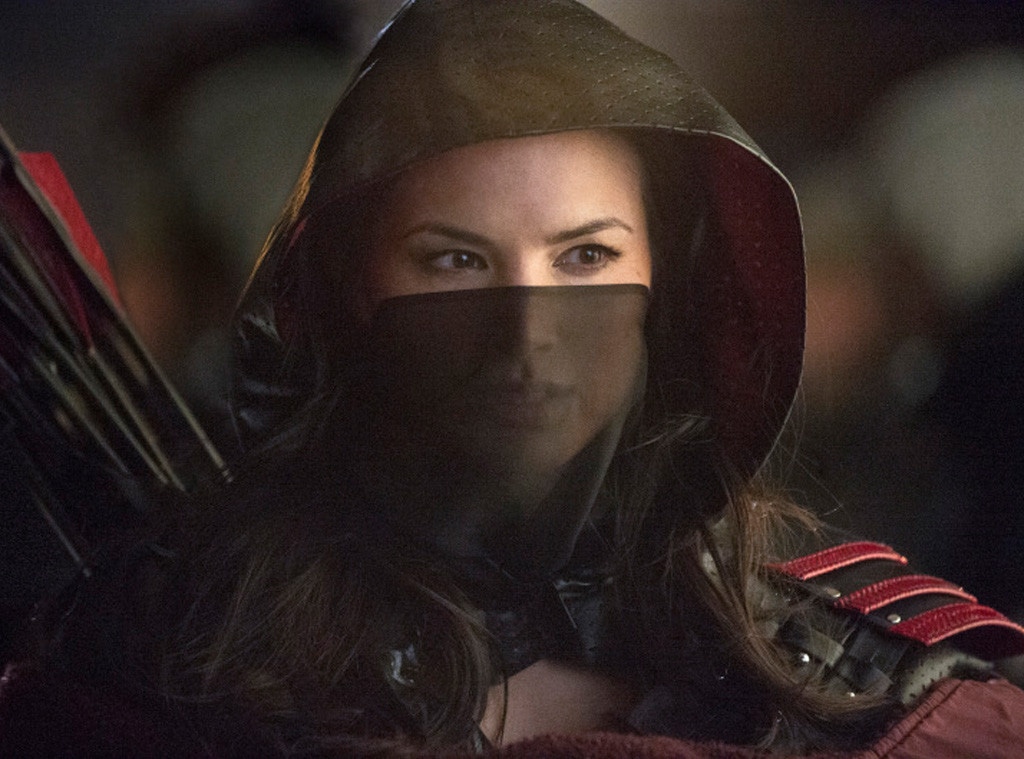 Cate Cameron/The CW
Now that's how you make an entrance!
Fanboys everywhere, prepare to geek out hard-core, because we've got your exclusive first look at Spartacus alum Katrina Law in action as Nyssa al Ghul on Arrow. And. It. Is. Awesome.
Nyssa, of course, is the dangerous Ra's al Ghul's (the leader of the League of Assassins) equally-as-dangerous daughter, who is sent to Starling City to bring Sara (Caity Lotz), the Black Canary, back into the killer organization's fold.
We've got an exclusive clip from Wednesday's all-new episode, "Heir to the Demon," which proves just how lethal Nyssa is. Oliver (Stephen Amell), you'll definitely have your work cut out for you with this one!
Of the formidable new villain, executive producer Andrew Kreisberg teases, "Second to [Ra's al Ghul], she's one of the most important figures in the League. They sent their first round of minions to come for Sara and that didn't go so well for them, so now they're bringing out the big guns. The way Nyssa comes into the story is in a far more provocative and surprising way than the last round."
And while Law performed most of her own stunts as Nyssa, including the entire airport sequence featured in the clip above, she admits that the character's precision when it comes to fighting due to her rigid training made her a bit nervous.
"She is precision and precise and everything she does has a purpose and an intent," she explains. "So I tried to make sure my movements were sharp—that was the biggest stress."
Though Ra's, who has yet to appear on Arrow, is a well-known character to DC Comics fans, Nyssa is a  bit more of a mystery, only appearing in a few comics, a fact Law enjoys. "I love it. I love the fact that she hasn't been in any movie and the interpretation is left wide open between the writers and myself with what we want to do with even everything down to how she looks and her costume. Everything about her is just wide open," she says.
And now that we're meeting his daughter, could viewers finally see Ra's pay a visit to Starling City soon? Executive producer Marc Guggenheim simply says, "We really can't comment on when on if you'll see Ra's."
Arrow airs Wednesdays at 8 p.m. on the CW.