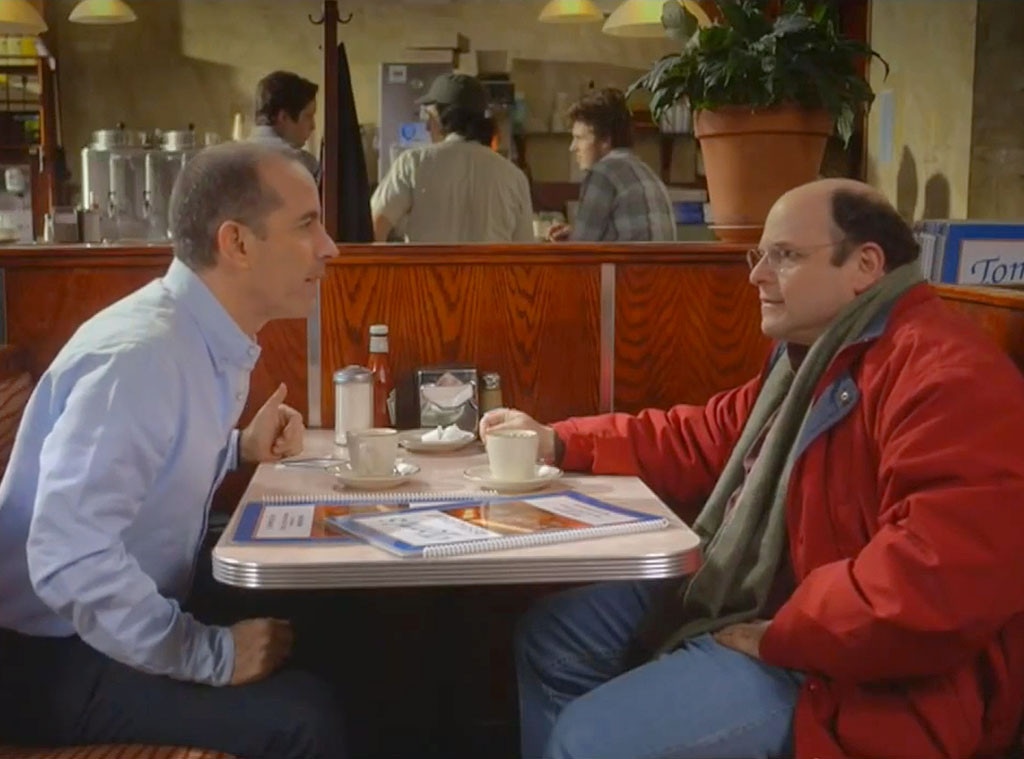 YouTube
Sorry, Seinfeld fans, it may be time to start hoping for that rumored Full House reunion instead.
The highly anticipated Seinfeld reunion finally went down on Sunday, Feb. 2, just before the Super Bowl halftime show when Jerry Seinfeld reunited with Jason Alexander (as his famous character George Costanza) at Tom's Restaurant to chat about a party for the big game. Newman (Wayne Knight) also popped in to bring some pastries, in what was actually a promo, more or less, for Seinfeld's web series Comedians Getting Coffee.
Nevertheless, die-hard Seinfeld fans went wild for the Jerry-George reunion, although you may want to save the six-minute episode on your computer, because it's likely the last reteaming of the iconic TV twosome you'll ever see.
"I do kind of feel like [I've gotten it out of my system], I must say," the 59-year-old actor said during an interview with BuzzFeed Brews and CBS This Morning on Monday, Feb. 3. "I think the timing was good. The opportunity was unique—to be on the Super Bowl is not something that we're ever going to surpass. So I may be wrong, but I have a feeling you've seen the final coda on that very unique experience."
Originally, Jerry Seinfeld and the show's co-creator, Larry David, intended to write a bit featuring their two characters talking about football before they later decided to add Newman into the mix.
"I was saying, 'If we're gonna do Jerry and George, I just gotta say, 'Hello, Newman' one more time," he shared. "I mean, you never want to pass up that opportunity."
In the commercial, Jerry and George have coffee at Tom's and Seinfeld is disappointed about not being invited to a party at the Wassersteins, which he did not attend because George wasn't invited due to his over-cheering at a prior party.
And turns out: The Wassersteins really do exist!
"The Wassersteins actually are friends of ours," Jerry revealed. "Larry and I like the name because it just sounds like the kind of name, how can I put this, 'the high-end New York Jewish invite,' shall we say? I had seen them and said, 'By the way, I'm using your name in the Super Bowl just 'cause I like your name.' And they went, 'Well, what are you saying about us?' I said, 'Oh, oh, it's nothing. It's just silly.' But they immediately texted us, 'We have sweet and savory.'"
In addition to dishing on the Super Bowl commercial, Seinfeld also discussed the topic of diversity in comedy, arguing that entertainment should not be required to accurately reflect our society.
"People think it's the census or something," he explained. "This has gotta represent the actual pie chart of America? Who cares? Funny is the world that I live in. You're funny, I'm interested. You're not funny, I'm not interested. I have no interest in gender or race or anything like that."
What do you about Seinfeld's remarks? Tell us in the comments.