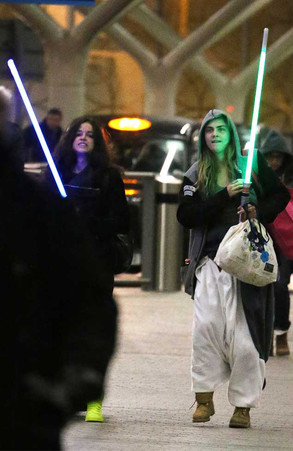 Hewitt/Parker/ Splash News
Cara Delevingne and Michelle Rodriguez's BFF train rolls on!
The 21-year-old model and 35-year-old actress, who've been spending tons of time together lately, surfaced in London recently and it appears both are Star Wars fans.
Delevingne and Rodriguez were spotted walking through Paddington Train Station carrying lightsabers. Rodriguez was dressed in all black with neon sneakers and a blue lightsaber while Delevingne sported baggy white sweatpants and long hoodie with a green lightsaber.
The duo was seen swinging the fake toy weapons around before boarding a train together.