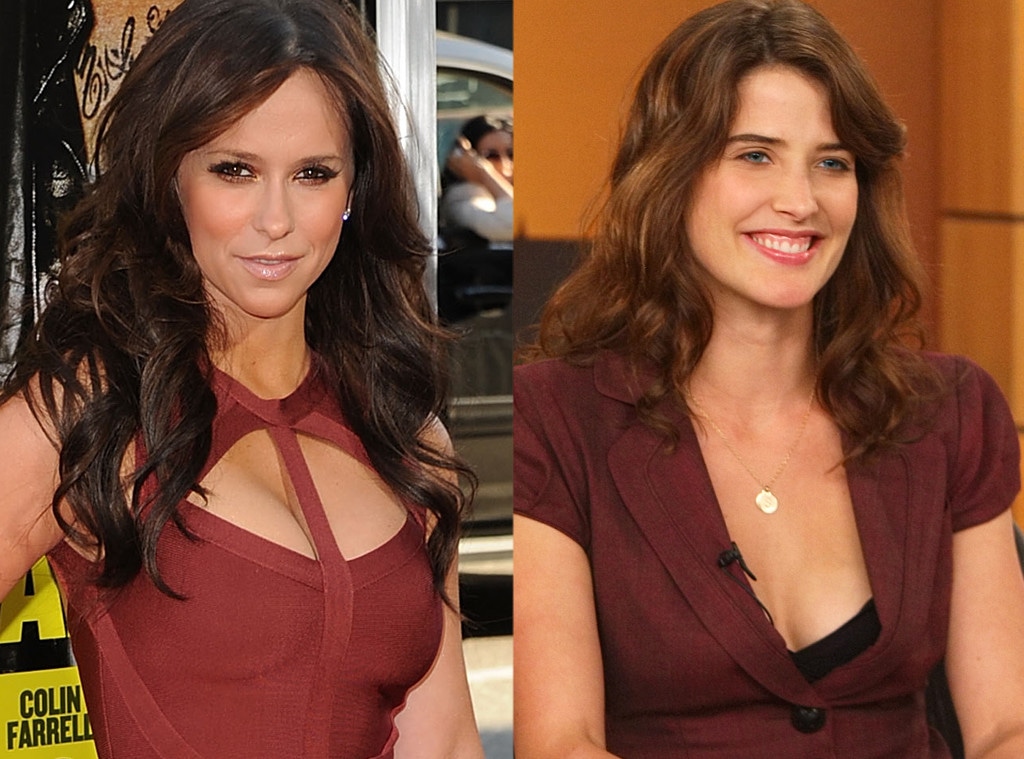 Jason Merritt/Getty Images
Prepare yourselves for a mother-load of answers!
Could you imagine Jennifer Love Hewitt as our favorite Canadian pop star turned journalist Robin Scherbatsky on How I Met Your Mother? Neither can we! However, according to co-creators Craig Thomas and Carter Bays, it almost happened.
In a Reddit "Ask Me Anything" event Monday afternoon, the HIMYM duo decided to take time out of their busy, final-season schedule to answer as many fan questions as humanly possible—and a few fun facts were revealed.
When asked which well-known actress was originally supposed to play Cobie Smulder's character, Robin, Thomas revealed, "Jennifer Love Hewitt did The Ghost Whisperer instead of HIMYM!"
In a similar world of what-if's, E! News exclusively revealed last year that Scott Foley was originally asked to play Josh Radnor's now-iconic role of Ted Mosby. Talk about an entirely different show!
Read on for more How I Met Your Mother anecdotes, fun-facts and final season secrets leading up til the show's final bow in March...
CBS ©2013 CBS Broadcasting
On whether or not The Pineapple Incident will ever be revealed:
Carter Bays: You might find out what happened with the pineapple eventually. We had always said we'd never reveal it, but now I'd say it's 50-50. It's always been an appealing idea to us artistically to leave it as the one mystery that never gets solved. But on the other hand, we do have an explanation for it that we like so it may make its way into these last few episodes.
On if Robin Sparkles will return before the series ends:
Craig Thomas: Stay tuned...people do tend to sing at weddings...
On whether or not fans are going to cry in HIMYM's series finale:
CT: If we do our job correctly, yes.
CB: You might cry a few times in the next two months.
On if the plan for the series' final scene has ever changed:
CT: We have not changed the very end of series at all. In fact, we shot part of it back in 2006, before Ted's kids got much older! We just looked at that footage, which will factor into the end of the series—it totally worked and was kind of haunting to watch! Shot 8 years ago and it will now help end our series on March 31st, 2014!
CB: We've been slowly crafting the last 10 minutes of the show probably since it started, but the actual writing of it hasn't happened until just recently.
On if anyone else had ever been considered to play The Mother:
CB: If the show had ended in season 1, it would have been Victoria.
On casting Cristin Milioti as The Mother:
CB: It was very easy casting the mother because Marisa Ross, our casting agent, had the idea very early on, and all we had to do was say yes. Craig had seen her in Once and I'd seen her on 30 Rock and then once we had her audition with Josh it was a very easy decision.
On the dreaded theory that The Mother is actually dead:
CB: We like all theories. It's really cool knowing people are invested enough to have theories about the show. Obviously we're not going to comment on it, but we very much appreciate and are grateful for the fact that our show is meriting so much discussion.
On whether or not the kids' names, Penny and Luke, come from the episode, "Lucky Penny," from Season 2:
CT: Yes, the names came from "Lucky Penny" and also Ted's love of Star Wars!
On deciding when Robin and Barney would get married:
CB: Between seasons five and six. Season six was when we really locked in on what the endgame would be.
On regretting any plot decisions throughout the series:
CT: I regret that we had the Narrator say he "never" found out about the pineapple. That said, we may have found a clever way around that, and a way to bring back the pineapple. Stay tuned...
CB: I regret the unfortunate moments of cultural appropriation in "Slapsgiving 3". There are things about that episode I really loved – the storytelling structure, Boyz 2 Men, the opening slow motion shot, all the slapping – but I think we all regret Ted's Fu Manchu mustache very, very much.
On their all-time favorite scene of HIMYM:
CB: Two Minute Date.
CT: We haven't shot it yet, but I'm really looking forward to the very last scene.
On whatever happened to Scooter:
CT: You may not have seen the last of Scooter...
On whether or not Robin's bull-fighting career will ever be explained:
CT: Stay tuned – we will get to it! We haven't forgotten! And by the way now that I think about it – Cobie Smulders as a bull fighter? Hello next TV project!!!
On Britney Spears' role as Abby on the series:
CB: We got a call a few weeks after the writers' strike ended saying that Britney Spears wanted to be on our show. And she specifically wanted to be in the episode "Ten Sessions," which sent a chill down our spines, because that's the one where we meet Stella. I immediately imagined Britney playing Stella and had a minor panic attack, because it's such a big role and needed an proven, experienced actress like Sarah Chalke. But to her credit, Britney liked the character of Abby, and wanted to play that part. So we said sure! And by golly she put our show on the map. It can't be overstated. Britney Spears rescued us from ever being on the bubble again. Thanks Britney!
On fixing the continuity errors in the 200th episode:
CB: There's a few little mistakes in the 200th episode that we're going to fix for future airings. The "couple of years" thing is being changed, and the St. Patrick's Day in April thing... man... that one was all me. Total blind spot. The fact that St. Patricks day is in March and not April was, if I may borrow the HIMYM term, my chameleon.
On why fans should tune into the upcoming spinoff How I Met Your Dad:
CB: Two words: Emily Spivey.
On how How I Met Your Dad went from an idea to a reality:
CT: We decided that if we could think of an exciting, new way to tell a story using only the same framework -- a parent telling their kids about their life before they were born -- and if we could find a female writer we loved who could co-create it with us (since How I Met Your Dad is from a female perspective), that we would do the spin-off. And then all of those things happened. So we are doing a spin-off. It will be its own, totally new show.
How I Met Your Mother airs Mondays at 8 p.m. on CBS.