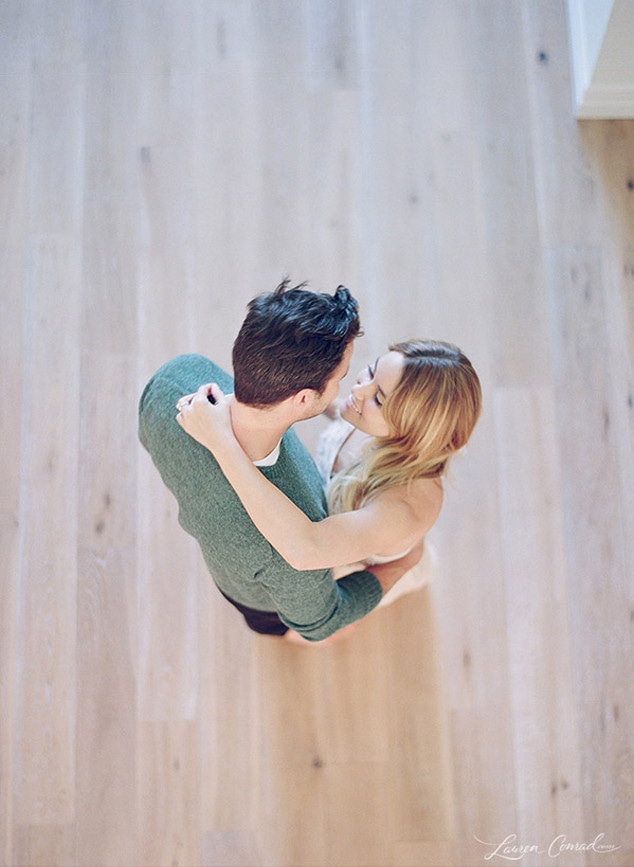 laurenconrad.com
Love is in the air!
With Valentine's Day just around the corner, and plenty of sweet celebrity weddings in the works, it's no surprise that Lauren Conrad felt compelled to post a sneak peek of her engagement photos on her web site.
The fashionista slyly uploaded two adorable pics from a recent engagement shoot featuring her and fiancé William Tell, and we have to say, they look simply dreamy.
The sweet moment was beautifully captured in their home by photographer Elizabeth Messina, and perfectly portrays their loving romance.
Elizabeth Messina/Instagram
The aerial shot shows the couple gazing into each other eyes while blissfully holding each other close, slow dancing to a tune that perhaps only the lovebirds can hear.
"There's something romantic about the month of February. The weather is cozy, the year still feels new, and it's the perfect time of the year to let your heart guide you. And then of course there's Valentine's Day (and my anniversary with William!)" Conrad writes on her blog. "But whether you're single or taken, think of February as a time to focus on the people, places, and activities you love most."
We couldn't have said it better ourselves.
Another photo shows a candid moment of Conrad posing in a filmy white dress with a close-up shot of the star's beautiful engagement ring.
She poses casually, gracefully curled up with a hint of sexy skin peeking out, ensuring that our focus is certainly on that stunning bling.
Well done, LC—we can't wait to see the rest of the engagement photos!