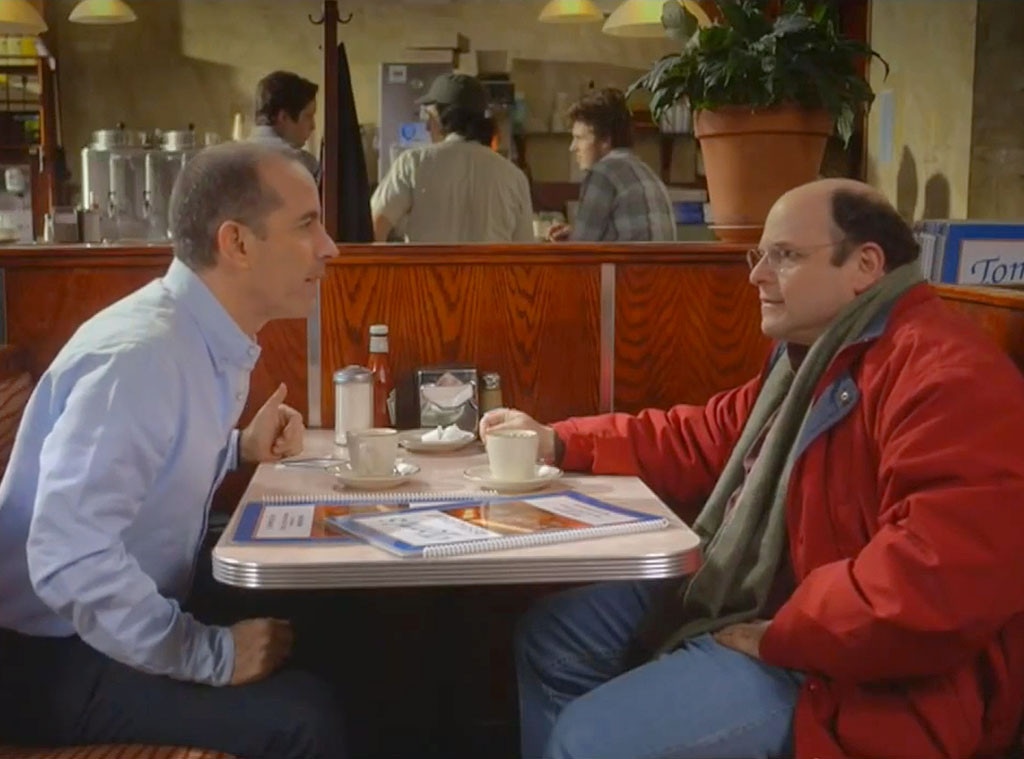 YouTube
Seinfeld is back…Kinda. Sorta. Ish.
In true Seinfeld style, the much-buzzed-about "Seinfeld Reunion" during the Super Bowl that Jerry Seinfeld has been hinting at for weeks, ended up a whole lot of something about relatively…nothing. It was a promo, more or less, for Jerry's Crackle series "Comedians in Cars Getting Coffee," in which Seinfeld and Jason Alexander (George Costanza) sat at Tom's Restaurant to chat about a Super Bowl party. Newman (Wayne Knight) also popped in to bring some pastries.
But of course, to diehard Seinfeld fans, it was certainly something. And the clicks confirm it.
The full six-minute episode of the George-Jerry reunion has crossed the 1 million viewer mark on Crackle.com, E! News has learned. And the entire "Comedians in Cars Getting Coffee" series has garnered more than 25 million streams.
So...Is there any chance we'll actually get a full Seinfeld reunion with the whole gang back together?
Survey says: Nope!
Here are three very big reasons why:
Jerry Seinfeld himself said it won't happen. In an episode of his Crackle series, Jerry Seinfeld told Louis C.K. that he felt Seinfeld's 9-year run was exactly how long it was meant to go. "My show was about four people living this certain type of lifestyle. We didn't want to do Kramer's 50th birthday party." (Louis says he wants his show to go "seven or eight years," by the way.)
No really, Jerry doesn't want it to happen. When asked during an unaired fan Q+A with Jimmy Fallon whether a Seinfeld reunion would ever happen, Jerry himself replied curtly, "No. It was 15 years ago. It's depressing already. It's just an old people reunion."
Larry David has said it won't happen. Seinfeld creator Larry David himself has also shot down the idea. "It's come up quite often. People asked me and I said no," he told The Huffington Post. "I never considered it and I never will consider it. '' David adds that his mini-Seinfeld reunion of six episodes on Curb Your Enthusiasm in 2011 "is the only way it could have ever gotten done. We didn't really do a reunion. We did a faux reunion."
In short: No reunion for you! Soup...maybe.
What did you think of Jerry and Jason's Super Bowl commercial? Worth the build-up? Hit the comments.