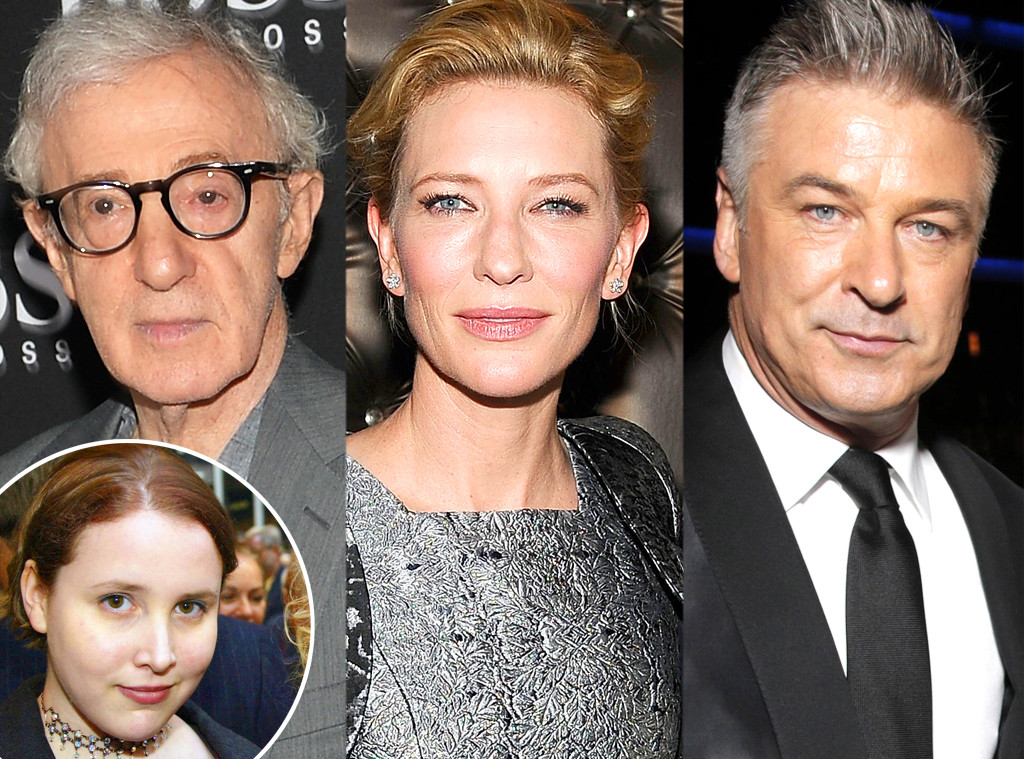 Getty Images
It seems as though Woody Allen will not be staying silent following Dylan Farrow's recent open letter that appeared in the The New York Times in which she detailed her estranged father's alleged sexual abuse.
"Mr. Allen has read the article and found it untrue and disgraceful. He will be responding very soon," Allen's publicist Leslee Dart said in a statement, suggesting that the iconic filmmaker will not allow himself to be publicly bashed.
Dylan, who was adopted by Allen and his ex-Mia Farrow, penned the missive after Allen was honored at the 2014 Golden Globe Awards with the Cecil. B. DeMille Award. Both Mia and Ronan Farrow publicly expressed their disdain for the praise of the Hollywood vet during the show, taking to Twitter to cite the sexual abuse allegations.
In the letter Dylan detailed the supposed incidents, saying the noted filmmaker took her to the attic in their home and sexually assaulted her when she was just seven years old.
News broke in 1992 that Allen was accused of inappropriately touching then 7-year-old Dylan, and although the claims were investigated, charges against Allen were not pursued because Dylan was said to be "too fragile" to handle a trial. Allen has denied any allegations of the sexual abuse for decades.
Reflecting back on that time, Farrow writes, "That he got away with what he did to me haunted me as I grew up. I was stricken with guilt that I had allowed him to be near other little girls. I was terrified of being touched by men. I developed an eating disorder. I began cutting myself."
"That torment was made worse by Hollywood," she continued. "All but a precious few (my heroes) turned a blind eye. Most found it easier to accept the ambiguity, to say, "who can say what happened," to pretend that nothing was wrong. Actors praised him at awards shows. Networks put him on TV. Critics put him in magazines. Each time I saw my abuser's face – on a poster, on a t-shirt, on television – I could only hide my panic until I found a place to be alone and fall apart."
"At the time, a thorough investigation was conducted by court appointed independent experts," Dart, Allen's rep, also said. "The experts concluded there was no credible evidence of molestation; that Dylan Farrow had an inability to distinguish between fantasy and reality; and that Dylan Farrow had likely been coached by her mother Mia Farrow. No charges were ever filed."
Farrow also singles out several actors who have starred in Allen's movies in the letter, asking, "What if it had been your child, Cate Blanchett? Louis CK? Alec Baldwin? What if it had been you, Emma Stone? Or you, Scarlett Johansson? You knew me when I was a little girl, Diane Keaton. Have you forgotten me?" (Diane Keaton accepted the Cecil. B. DeMille award on behalf of the Hollywood heavyweight).
Blanchett was asked about the epistle while attending the Santa Barbara International Film Festival on Saturday night, and the 44-year-old actress provided a tactful response.
"It's obviously been a long and painful situation for the family, and I hope they find some resolution and peace," Blanchett, who is currently a frontrunner for the Best Actress Oscar for her performance in Blue Jasmine, told journalist Jeffrey Wells.
Alec Baldwin, however, was far more blunt when approaching the topic on Twitter. "What the f--k is wrong w u that u think we all need to b commenting on this family's personal struggle?" Blanchett's Blue Jasmine costar responded to one user who asked whether he owes Dylan an apology.
"So you know who's guilty? Who's lying? You, personally, know that?" he replied to another, before tweeting, "You are mistaken if you think there is a place for me, or any outsider, in this family's issue."
In typical Baldwin fashion, his tweets have since been deleted.
Allen's attorney wrote to CNN: "It is tragic that after 20 years a story engineered by a vengeful lover resurfaces even though it was fully vetted and rejected by independent authorities. The one to blame for Dylan's distress is neither Dylan nor Woody Allen."