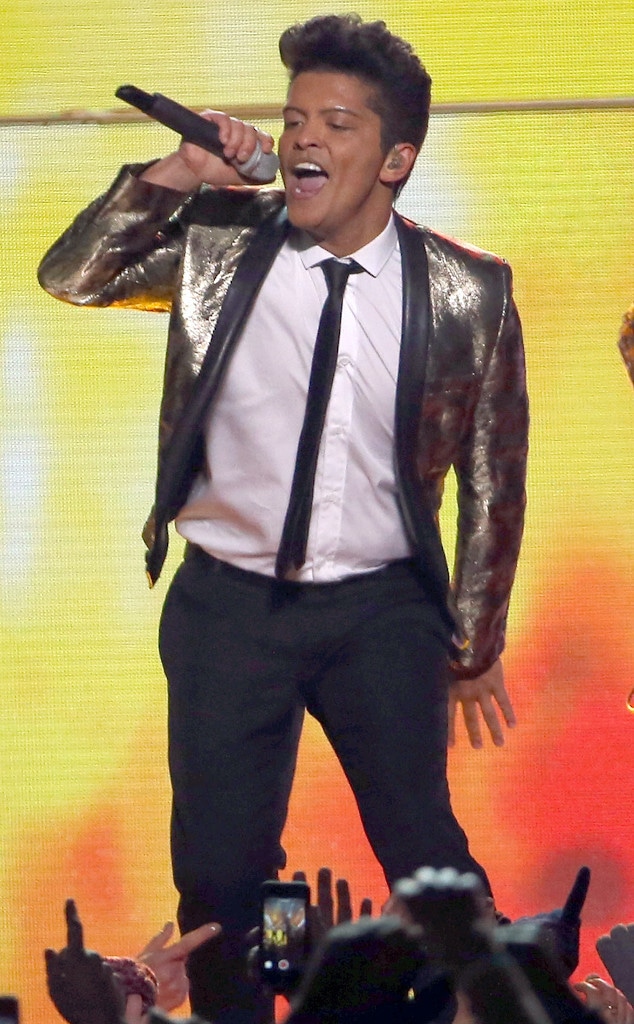 Larry Busacca/Getty Images
Well, Bruno Mars did say, "I ain't scared," when it came to his Super Bowl performance.
And it showed as the "Locked Out of Heaven" crooner brought it at the Pepsi half time show, kicking off his performance on the drums.
With a few body rolls to boot, the super-talented artist killed it as he performed "Locked Out of Heaven," "Treasure" and "Runaway Baby" with his eight-piece band, The Hooligans, who were all dressed in a gold blazer and black pants created custom Saint Laurent by Hedi Slimane.
And that wasn't all Bruno had in store.
Before the show was done, the Red Hot Chili Peppers burst on the scene with him, bringing us to our feet with their famed song "Give it Away," with shirts off and all.
The Grammy award-winning musician then brought the lights down low as he crooned "Just the Way You Are."
On the heels of Beyoncé's killer Super Bowl Halftime performance last year, the "Locked Out of Heaven" crooner had big shoes to fill in terms of this year's show, but the talented musician certainly held his own.
He added a touch of nostalgia as well, paying tribute to his late mother, Bernadette Hernandez, with the drum kit he played on that was designed to honor her.
Before the big show, Mars told reporters he had no pre-performance jitters, saying, "I ain't scared if that's what you think."
"Spectacle-wise? I don't do trapeze and all that stuff," he continued. "I hope to get people dancing and smiling. If you ever come to one of my shows, it's just us up there. We've got these songs and our instruments and I'm hoping that's enough."'
And it was.