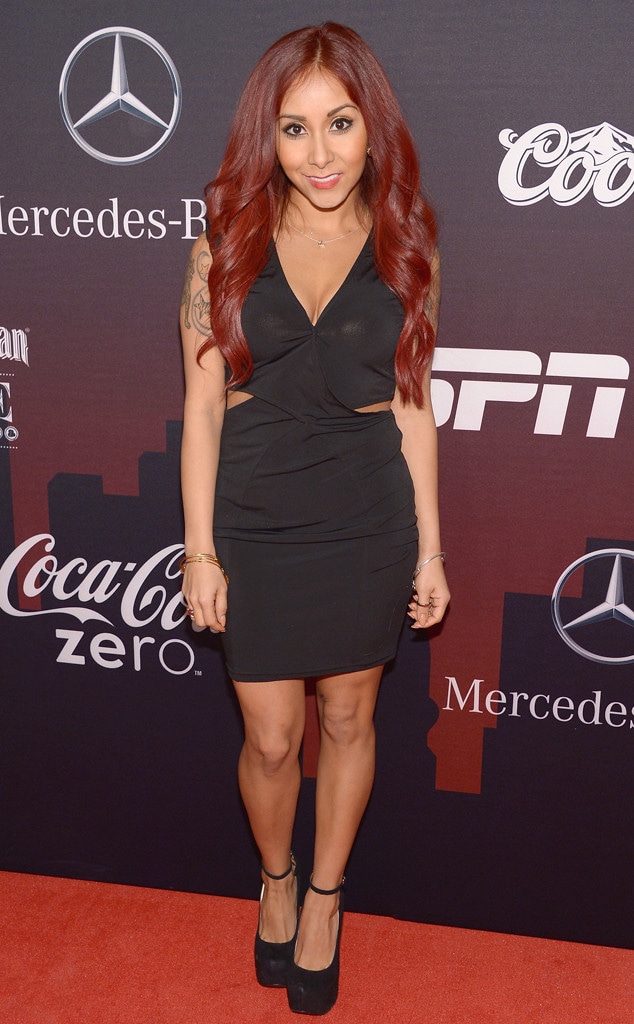 Michael Loccisano/Getty Images For ESPN
How is Jenni "JWoww" Farley handling her pregnancy?
Let's just say she's trying her best to get used to the idea of motherhood.
"She's definitely freaking out, she doesn't want to get fat," Nicole "Snooki" Polizzi told E! News at ESPN's pre-Super Bowl Party in New York City. "She's working out twice a day – she's insane. But I gave her a copy of my book, so my book's helping her. And any questions she has she knows she can come to me. I'm always here for her."
Although JWoww is expecting a girl, Snooki said she hopes that J Woww's daughter and her son tk grow up to be just friends, adding, "I feel like they're going to be more like cousins, because Jenni and I are like sisters."
Cindy Ord/Getty Images for SELF Magazine
"I think it would be weird if they hooked up or started dating. I'd like to raise them like they're cousins," she added.
As for who will get married first, Snooki said all signs point to her.
"Probably me because she's pregnant," she said. "She was going to have a summer wedding, but now I think she's going to wait another year, so mine will come first."
Snooki also gave us her take on Justin Bieber's drama-filled last few weeks, saying "I mean, he's a kid, he's still 19. When I was 19, I was crazy."
"I feel like he's going through that stage and he'll probably be in it until he's 24," she went on. "He's going to experience things. Yeah, he's messing up and it sucks that he's in the public eye, but eventually he needs to realize that he's Justin Bieber and a lot of kids look up to him and he has to straighten his act out. But right now, he's being a kid."
-Additional reporting by Beth Sobol