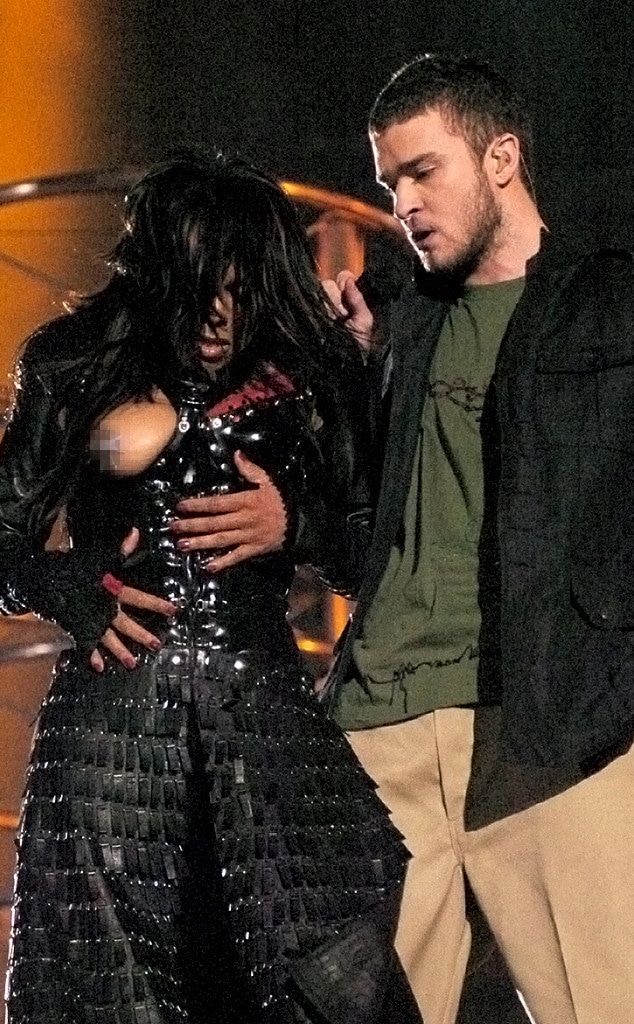 Kevin Mazur/WireImage.com
Who could ever forget that Janet Jackson is responsible for the phrase "wardrobe malfunction?"
Nearly 10 years ago, on Feb. 1, 2004, 90 million viewers were unexpectedly treated to a televised peep show when the singer's right breast was exposed for nine-sixteenths of a second. Justin Timberlake had joined the music legend on stage to sing his third solo single, "Rock Your Body," during the Super Bowl XXXVIII Halftime Show. As the pop star crooned, "Bet I'll have you naked by the end of this song," he reached over, grabbed a corner of Jackson's right breast cup and gave it a tug, exposing her boob.
Jackson quickly grasped her chest as the camera cut wide and fireworks exploded from the stage.
And that's when s--t hit the fan (pardon the expression).
"Justin was supposed to pull away the rubber bustier to reveal a red lace bra," Jackson's rep said at the time. "The garment collapsed and her breast was accidentally revealed." CBS forced Jackson to release a video apology, saying, "My decision to change the Super Bowl performance was made after the final rehearsal. MTV, CBS [and] the NFL had no knowledge of this whatsoever and unfortunately, the whole thing went wrong in the end. I am really sorry if I offended anyone. That was truly not my intention."
The Federal Communications Commission received more than 540,000 indecency complaints as a result of Jackson's nip slip. The FCC, in turn, fined CBS $550,000. The network appealed the fine, which was ultimately voided by the Third Circuit Court of Appeals in a 2011 ruling. A case to reinstate the fine was refused in 2012. The incident, later dubbed "Nipplegate," nearly ruined Jackson's music career.
In retaliation, several television and radio entities—including Viacom, CBS, MTV, Infinity Broadcasting and Clear Channel—blacklisted Jackson's eighth studio album, Damita Jo, released on March 22, 2004.
The 22-track record was her lowest-selling album since 1984.
A decade after the incident, former FCC chairman Michael Powell said the Super Bowl controversy had been blown out of proportion. "I didn't want this snowball, this juggernaut, to turn into pressure to go after Janet and Justin Timberlake. I thought we were getting into dangerous territory," he told ESPN.
Powell ended up testifying on the wardrobe malfunction more than any other issue else in his entire career. "I ended up testifying for nine hours on just this," he said in disbelif. "On 9/16 of a second."
Jackson was treated more harshly than Timberlake, much to Powell's chagrin. "I personally thought that was really unfair," he said. "It all turned into being about her. In reality, if you slow the thing down, it's Justin ripping off her breastplate." When the native Tennessean was recently asked about the Super Bowl performance, he declined to defend Jackson. "I take that I chose not to comment on it still, after 10 years," Timberlake told the magazine. "I'm not touching that thing with a 10-foot pole."
The scandal became one of the most talked about moments in pop culture history, and it also inspired several young entrepreneurs. Jawed Karim, for example, wanted to make it easier to find the Nipplegate clip and other in-demand videos. A year later, he co-found YouTube, the largest video-sharing site of all time. The incident also made "Janet Jackson" the most searched term, event and image in internet history, as well as the most searched person and term of the year in 2004 and 2005.
Jackson talked about the Super Bowl XXXVIII Halftime Show scandal for the first and last time in a 2006 Oprah Winfrey Show interview. She admitted that she and Timberlake hadn't spoken since the incident, though her partner in crime had "reached out to speak with me." Asked if she felt Timberlake failed to adequately stick up for her after the incident, Jackson replied, "To a certain degree, yeah."
The singer insisted that the incident was accidental. "So much more important things were going on in the world. And the focus was on my breast? That didn't make any sense to me," Jackson said.
It may not make sense to Jackson, but 10 years later, people are still talking about it. The same can't be said for the musicians who succeeded her as Super Bowl Halftime Show performers—no offense, Tom Petty & the Heartbreakers.