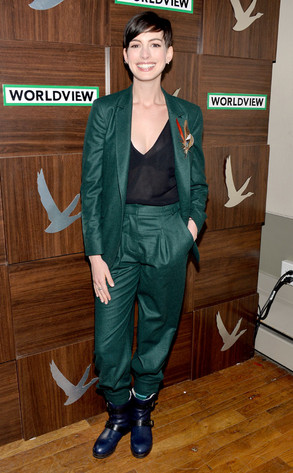 Jamie McCarthy/Getty Images for GREY GOOSE
Anne Hathaway is continuing to open up about all her haters.
The 31-year-old actress, who disappeared from the spotlight for a while after her Oscar win in Feb. 2013, said she knows there are people out there who don't like her.
Speaking to MTV News at the Sundance Film Festival, Hathaway was asked why she decided to return with her new film Song One.
"We had been working on the script for two years before we actually started shooting," she dished. "All of the elements came together in that moment. I don't want to bring up a sore subject or anything—I think my publicist is probably like, 'No, no no'—but I had just taken a little bit of a beating from the Internet."